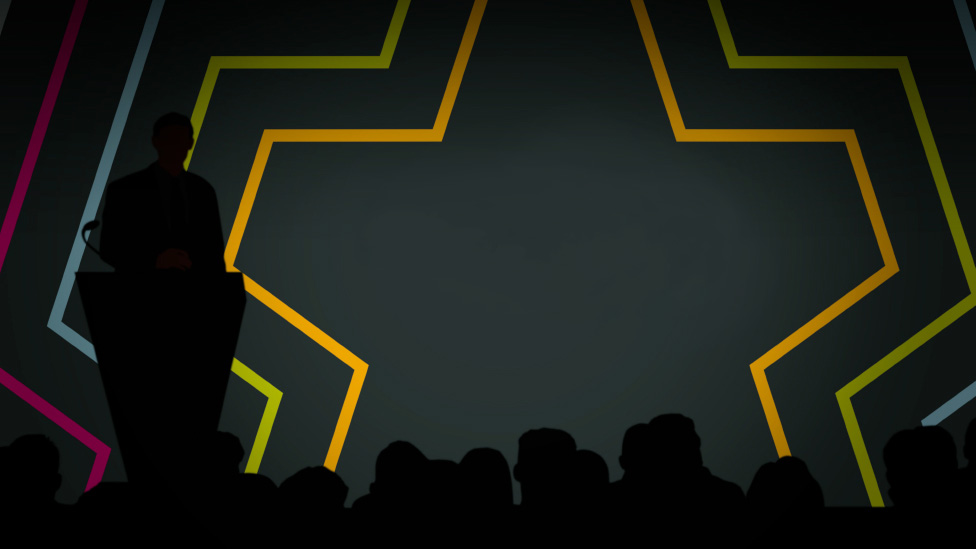 As part of AstraZeneca's Annual GMD Awards programme, we provided support in a wide range of global conference management areas, including a striking branding solution and awards collateral, and an engaging and cost-effective award management app.
Background
AstraZeneca believes in nurturing and empowering their people to continue to innovate and create the life-changing medicines that have been improving the lives of patients for decades. Our client rewards the passion their teams demonstrate in everything they do every day with not just exciting career progression paths, but also with opportunities for recognition by their own peers, contributing to increased job satisfaction and honest collaboration and teamwork.
The annual GMD Awards programme is designed to recognise employees' outstanding contributions all over the world. The Awards programme – peer-nominated – is part of AstraZeneca GMD Division's Passion for People Development programme, which we had already collaborated with our client on.
Challenge
To support the peer nomination process and awards ceremony – broadcast live to 8 global locations – AstraZeneca needed our help in a wide range of global conference management areas, including a strong branding solution and a suite of digital and printed collateral. Our client also needed a mobile app that would drive engagement across teams in all global locations, in the run-up and during the awards ceremonies.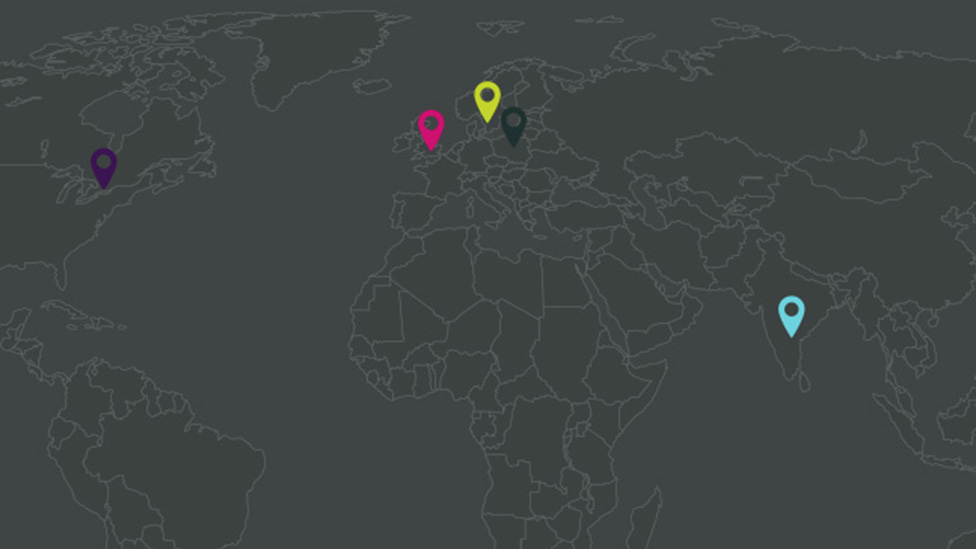 Solution
As part of our global conference management solution, we started by developing a new brand. The new awards identity sits comfortably in the context of the wider AstraZeneca Passion for People initiative, which we had also worked on with our client. The design we created for the overall Passion for People project helps emphasise individual growth over time – layer upon layer of skills and milestones achieved.
When it came to creating the branding for the annual awards programme, we borrowed the same universally recognisable concept and gave it its own unique identity: the curved lines that surround a human silhouette have turned into angular lines that now envelop the shape of star. This visual device, together with the bright colours combine to create an identity that exudes vibrance and personality.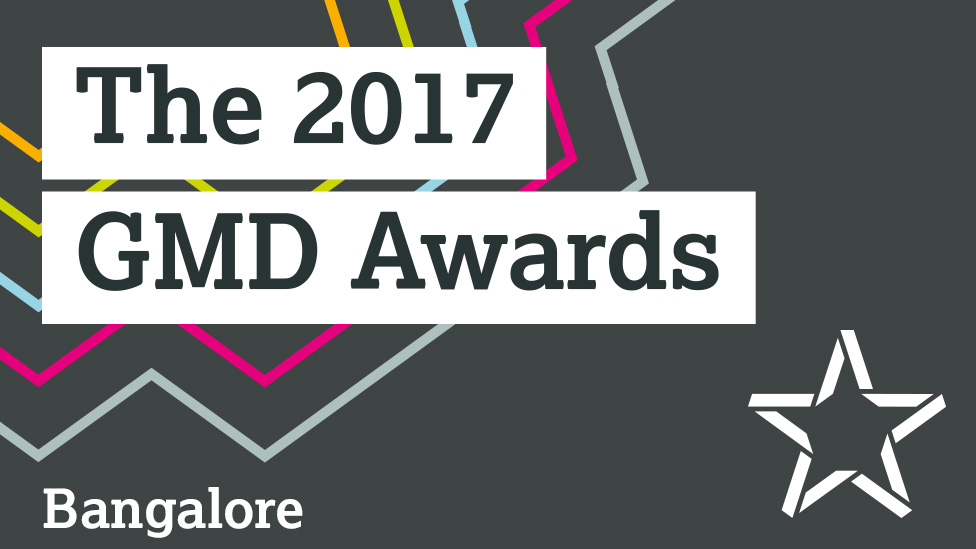 The new awards identity was carried through to a wide variety of printed and digital awards collateral, and live event materials: on-screen and lectern graphics, cue cards, presentations, name badges, nomination and win certificates, as well as brochure and pull-up banners.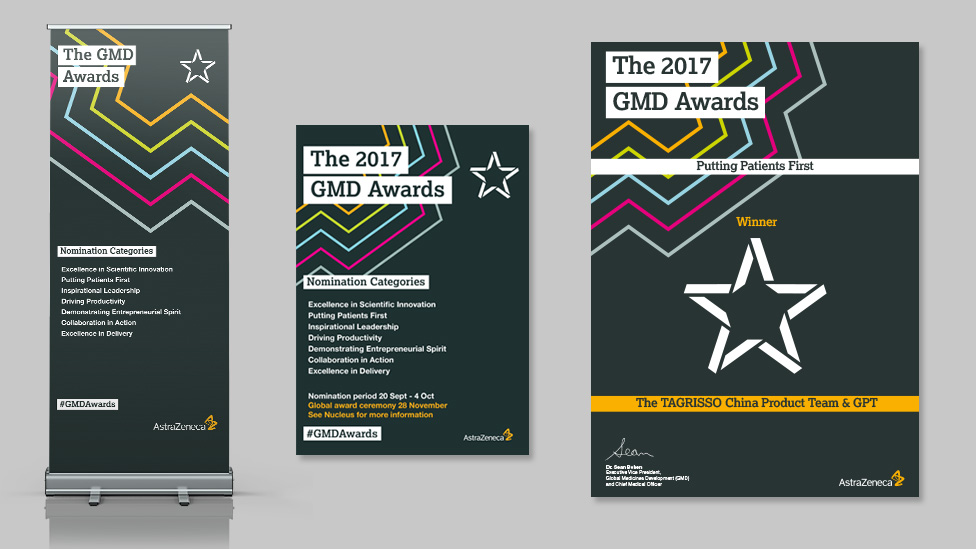 With only one-week turnaround, and to keep costs to a minimum as well as delivery times, we liaised with printers in-country.
To further minimise costs, we tailored an off-the-shelf mobile app that allowed any GMD employee globally to nominate peers or be nominated in 7 categories. The app allows a designated GMD steering group to review all nominations, choose finalists and winners. Overall, the app facilitated the nomination process for as many as 1,500 employees worldwide.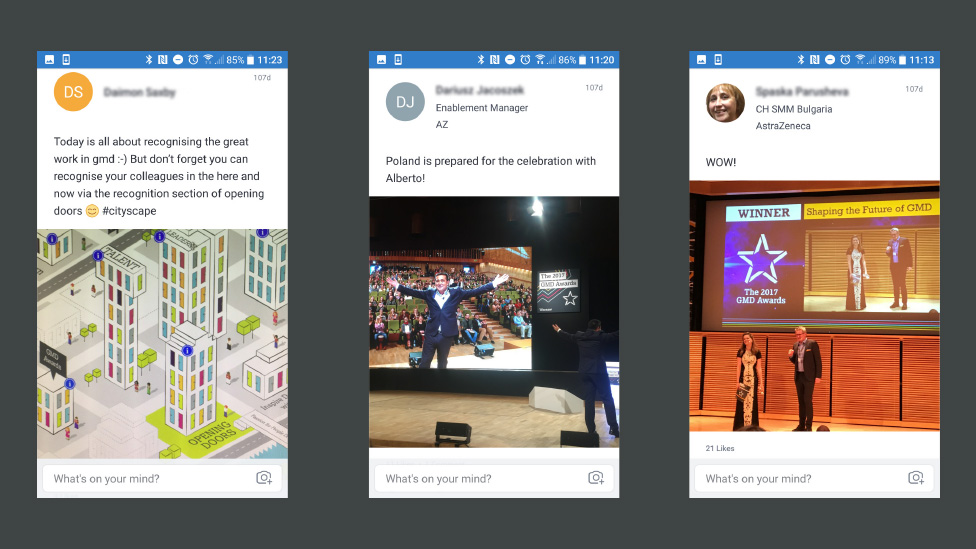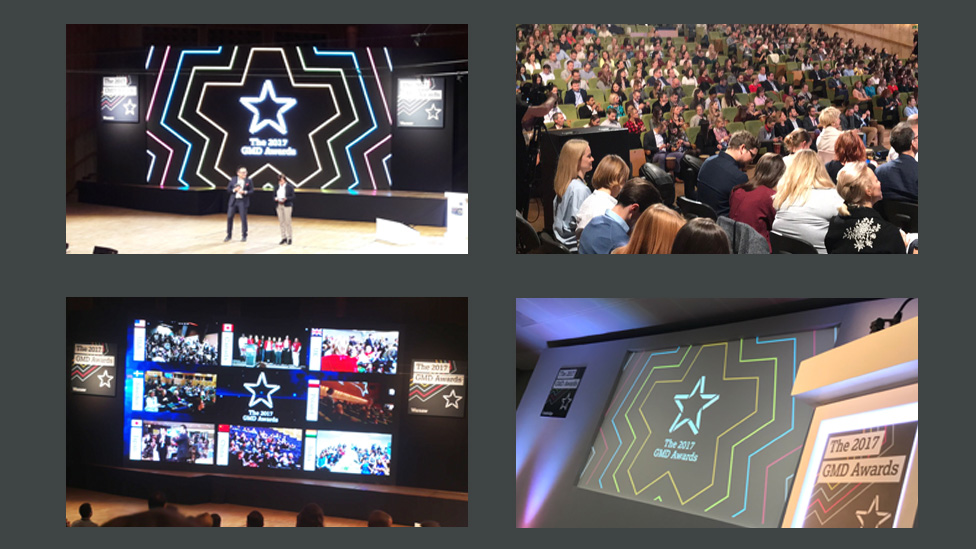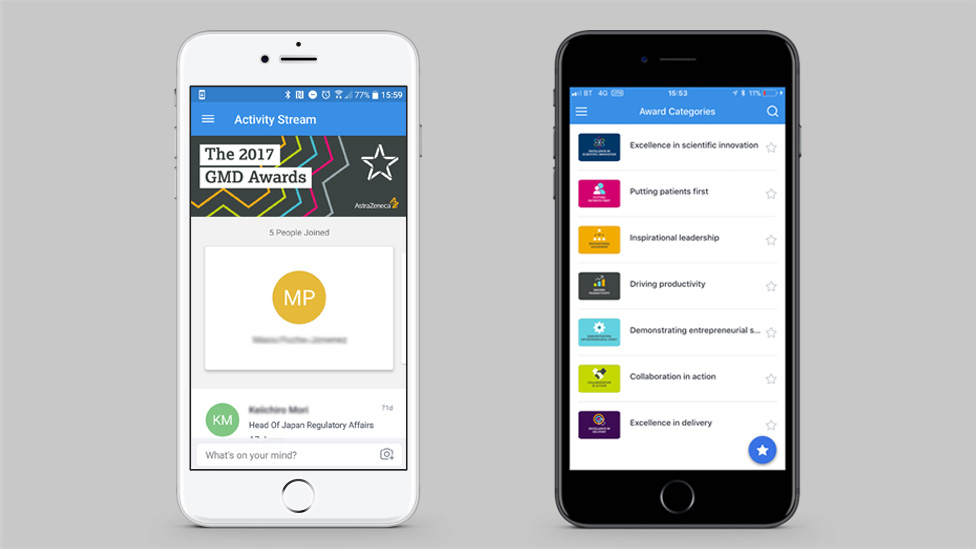 The app acted as a social engagement tool in the run-up to and during the awards ceremony, encouraging employees to share photos and public messages of support. The app also includes private messaging functionality and reporting capabilities.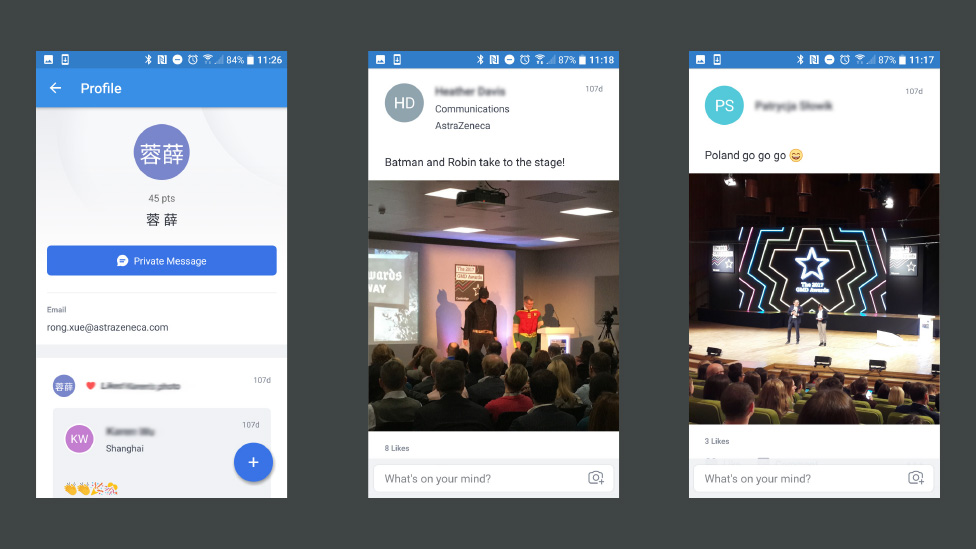 The awards ceremony was hosted in Sweden with a live link-up to 8 global locations, with our team providing on-site support at AstraZeneca's Cambridge site to ensure the smooth running of the app.