With this holiday brochure production project we helped Keycamp promote their range of self-catering holidays through vibrant colours, images full of personality and enticing copy.
Challenge
A holiday brochure production and design project that had to meet several objectives – the final design would have to be part magazine, part lifestyle, part tour guide and part catalogue. It had to engage audiences, and encourage them to book.
Solution
Having worked on holiday brochure production and design extensively over the years, we knew how to get the balance right.
Keycamp offers holidays aimed at families, so we ensured that the cover design appealed to both parents and children. A stunning photograph in the middle of the cover helps readers focus their attention immediately, enticing them to pick up the brochure and browse through the pages to find the perfect experience for them.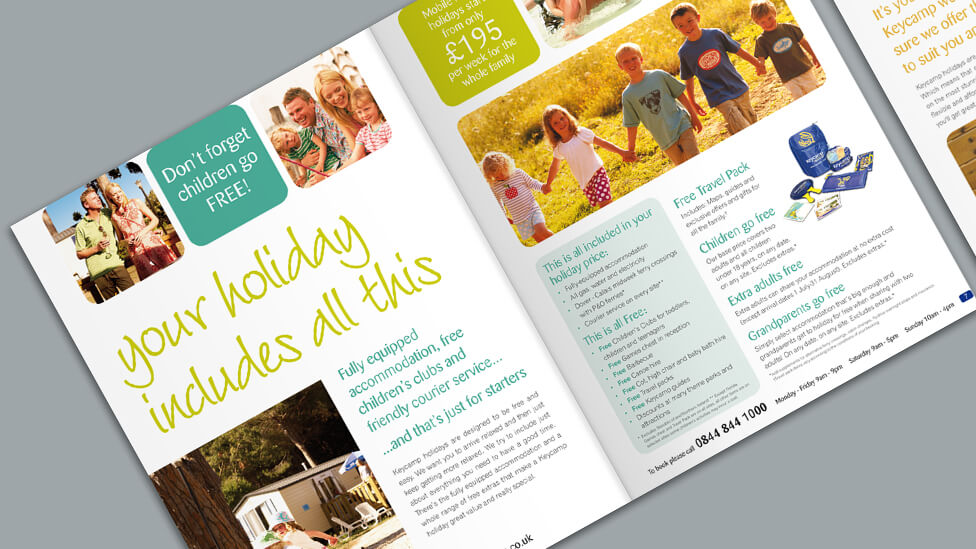 As a well-known and respected holiday provider with a loyal and long-established customer base, we branded the brochure design clearly with the company logo, and used the bright and contemporary colour palette to help us structure the content into bite-size chunks that help process the information.
We considered every element to ensure the pages are fun and inviting – a relaxed typography style is the perfect vehicle for informal headlines that speak directly to the audience.
We matched this with carefully selected photos showing the quality accommodation and the wide range of activities available, all perfectly transmitting the idea of a holiday to remember for life.