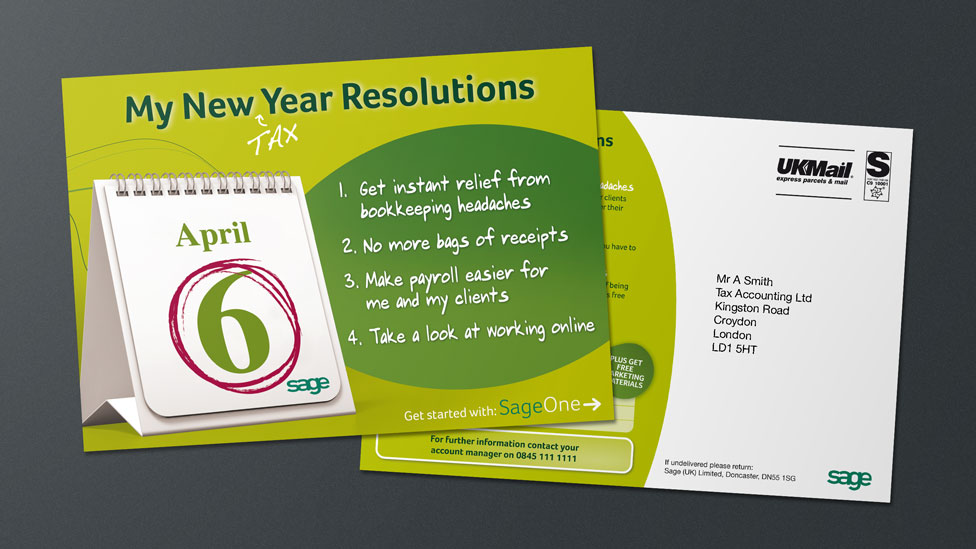 This personalised mail shot design helped Sage generate brand awareness and ultimately had a positive impact on sales figures.
Professionally produced mail shot design can generate sales and raise awareness to existing customers whilst also generating interest from new areas. With greater accuracy and impact than other marketing and advertising methods direct mail is still an extremely popular way of communicating sales messages.
Mail shot design must be carefully planned, and our team have extensive experience in creating such marketing campaigns. It takes specific skills to establish the right message and design style so that it generates a high response rate. Clear, targeted and suitable calls to action are a crucial part of this. In the case of the design shown above, we included the added feature of personalising each print to the recipient, which has been proven to yield improved response levels.
The possibilities for format when it comes to mail shot design are endless. In considering any campaign as a whole our design team take into account all aspects including design and print costs, bespoke shape cutting and send costs (quantity, quality, size, location, recipient demographics). We also take the time to discuss the required outcomes of the mail shot design with clients in order to help them establish a suitable spend budget compared to the return on investment projected.
Have a look at other examples of successful direct mail campaigns.