We created an impactful retail graphics wall that helped improve the passenger experience at a busy airport terminal.
Background
Strategically placed graphics can be one of the most impactful ways to communicate a message. In an era when passenger expectations of their overall experience at the terminal are increasing, we chose a flowing design of retail graphics to improve the passenger experience: an innovative way to present information in a busy environment already filled with information.
Challenge
Our client, one of the major airport operators in the UK, serving 50 million passengers across 4 UK airports every year, had identified some issues with passengers trying to find their way around the terminal.
Solution
Our design took over a 27-metre wall, and made the information digestible for passengers as they made their way from the security area. The retail graphics design takes passengers' state of mind into consideration: passing through security may create unease and a sense of inconvenience, particularly for families travelling with young children.
We produced a set of striking and colourful infographics for two areas with some of the busiest traffic within the terminal buildings. The size and scale of the graphics play a major part in capturing the passengers' imagination, and engaging content and design are vital in communicating the message that holiday fun really can start even before take-off.
The design visually guides passengers towards the departure lounge, whilst making them aware of the wide range of facilities and services available, such as 'Collect on Return' and 'One Bag', the Escape Lounge and shopping areas.
The design overcomes a number of challenges, such as panel gaps and a fairly steep ramp which passengers walk up. Key messages appear consistently at eye level or are not separated. The lighthearted and attractive illustration style, complemented by the playful script font, is the perfect base to introduce the benefits passengers can take advantage of.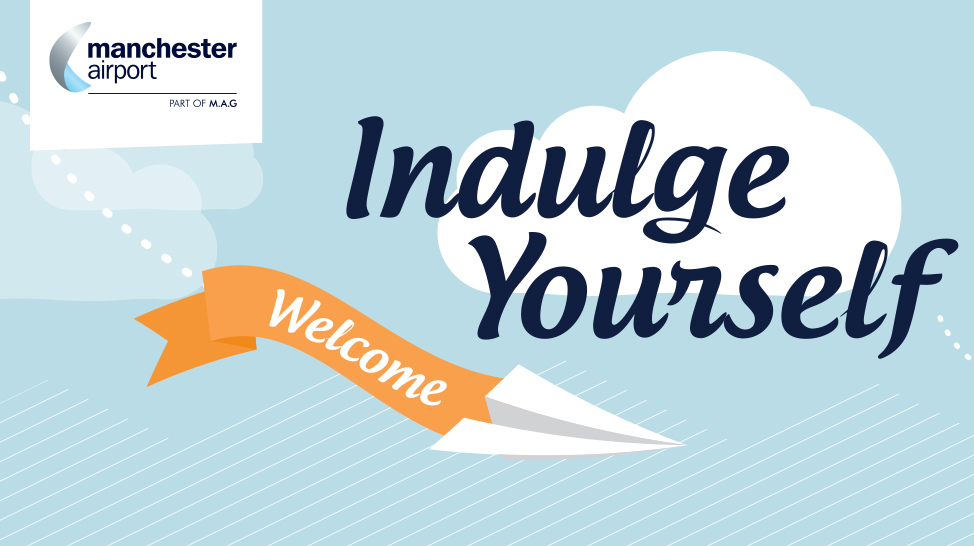 The content is split into sections, with a paper aeroplane floating between the key segments acting as a wayfinding device within the graphics, at it helps passengers follow the flow of content as they walk and get closer to their holiday destination.
Have a look at other examples of work that have helped our Retail clients reach their targets.