With this social media animation we helped our client spread a message of positivity in the face of the Covid-19 pandemic.
Background
Established in the 1960s as one of the UK's first two business schools, our client is part of the prestigious University of Manchester and the largest campus-based business and management school in the UK.
Alliance Manchester Business School offers undergraduate, Master's, MBA and Executive Education programmes, as well as a highly respected PhD programme. Like many other educational institutions across the UK and worldwide, our client had to adapt to the new reality that the Covid-19 pandemic brought with it.
Challenge
To help inform new students and those returning after the summer break of a list of 10 new measures implemented to minimise risks associated with Covid-19.
The main element of our client's awareness campaign would be a social media animation to be shared with their LinkedIn, Instagram, Twitter and Facebook audiences.
Going beyond treating the animation as a mere information tool, the social media assets would need to reassure students of AMBS's efforts to guarantee a safe and seamless learning experience in the new academic year.
Solution
Maximising our client's bright and impactful colour palette, the visual style of the social media animation grabs the audience's attention straight away. The pace of the animation is perfect to convey a message of energy and dynamism, but is slow enough to give audiences enough time to read the message in each of the frames within the rotation.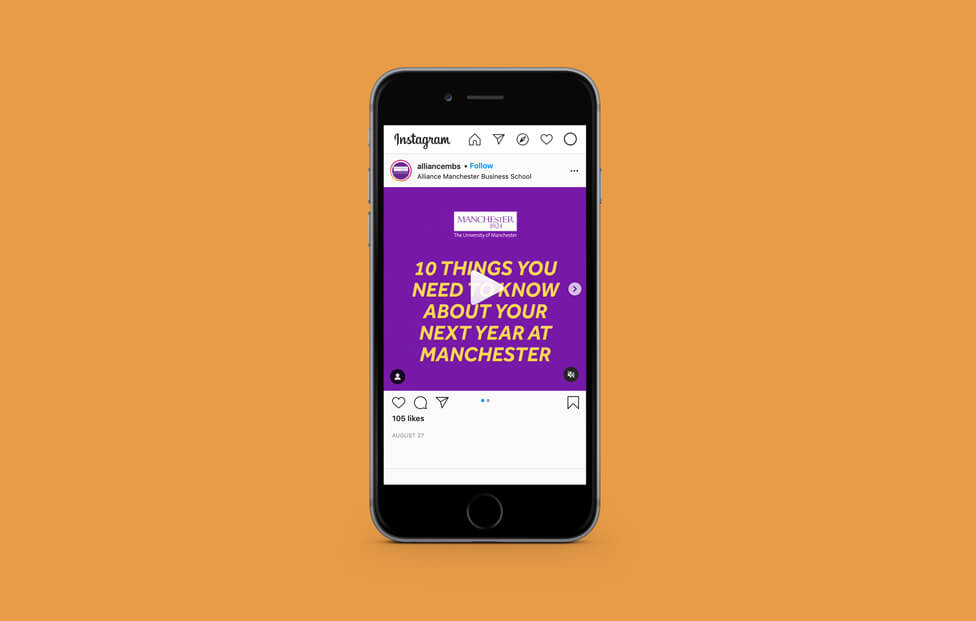 The language used in the animation is friendly and approachable, making the information easy to understand. It's warm and also to the point: there's no need to worry, the School has taken care of everything.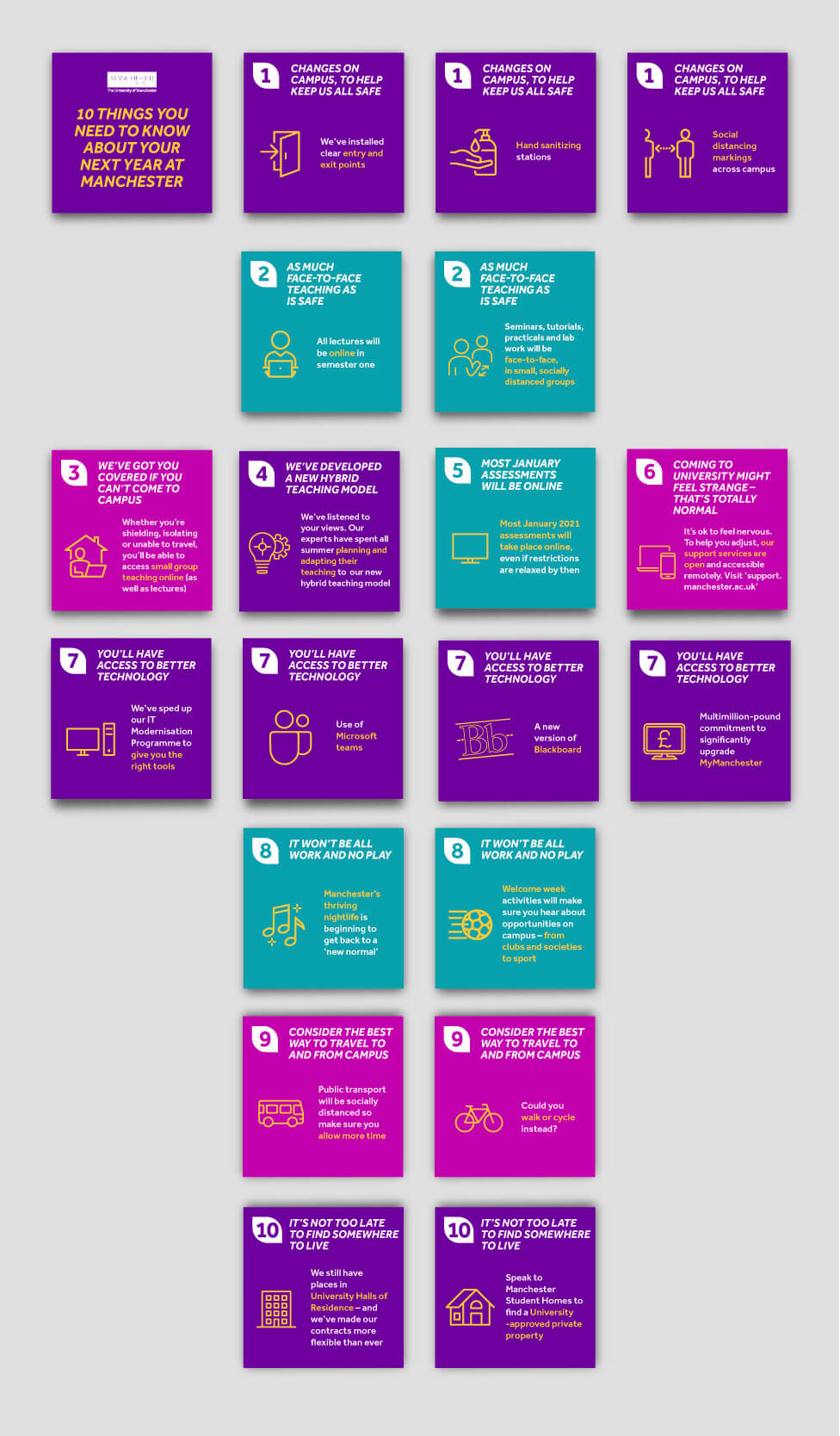 We used the brand's bright yellow to highlight key bits of information and help a series of playful icons stand out.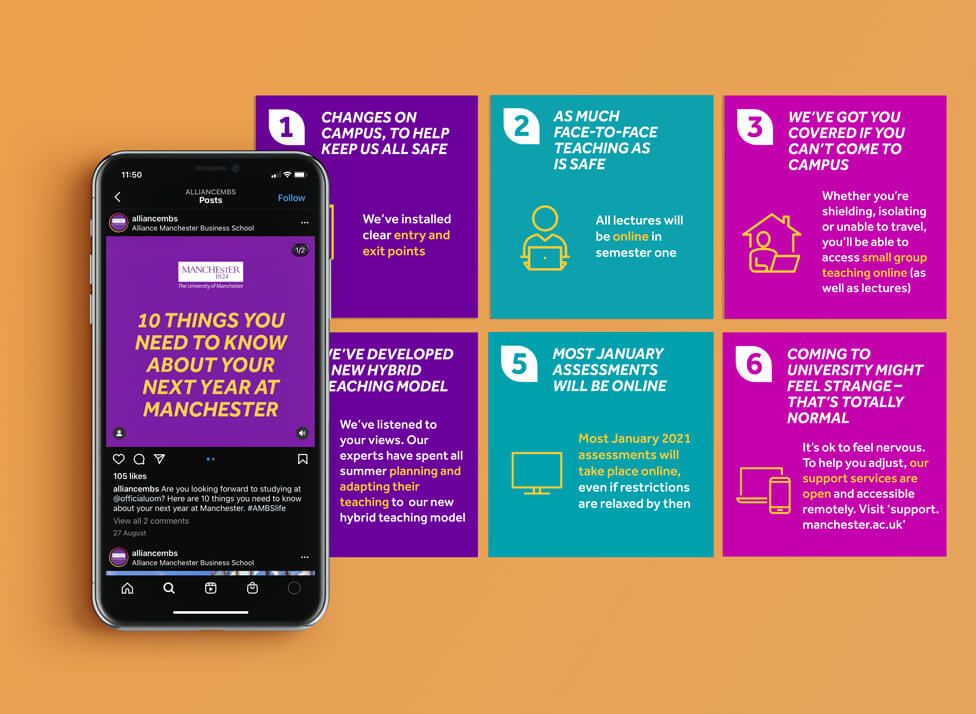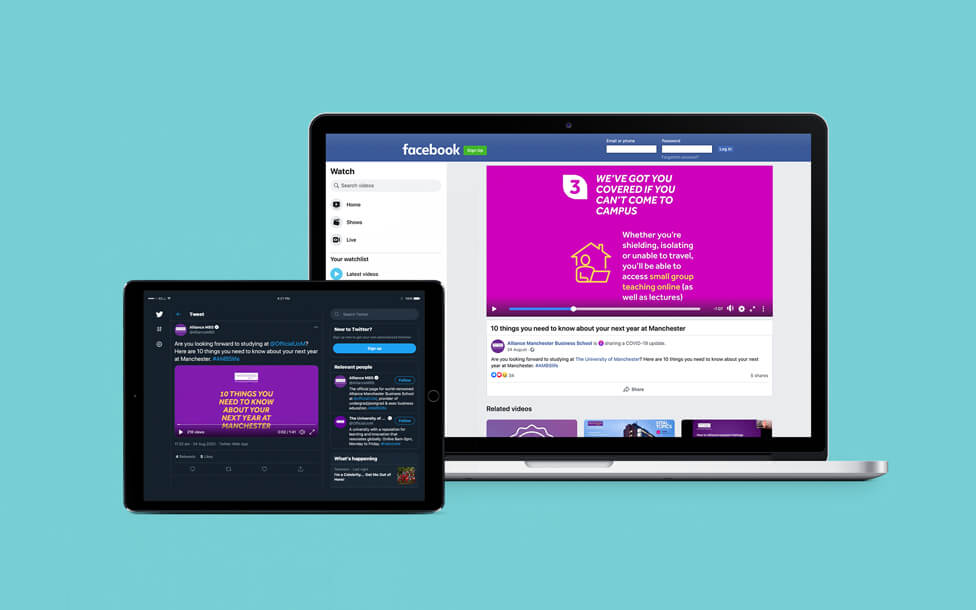 The use of two different fonts helps structure content in each frame.
"Thank you so much for being able to turn these around so quickly. I really appreciate all the hard work it's taken to get these ready. They look great!"

Marketing team, Alliance Manchester Business School
As part of the awareness campaign, we also produced an A4 infographic that was shared with students as a poster and a leaflet hand-out.