In just over 30 seconds, this student recruitment animation transmits the idea of a promising future, a world of possibilities.
Background
For almost 70 years, Cambridge Education Group has been helping prepare thousands of students to progress onto some of the world's leading universities. Our client is renowned for the quality of their teaching, excellence of their facilities and the truly personalised service they offer every student.
The OnCampus division of the Cambridge Education Group specialises in teaching a wide range of pre-university programmes, which offer the opportunity to progress onto undergraduate and Master's degrees at some of the best universities across the United Kingdom, mainland Europe, and also the USA.
Challenge
Focusing on the OnCampus programme in the US, our brief was to illustrate in a highly visual and dynamic way the varied and exciting journey a student would be able to embark on.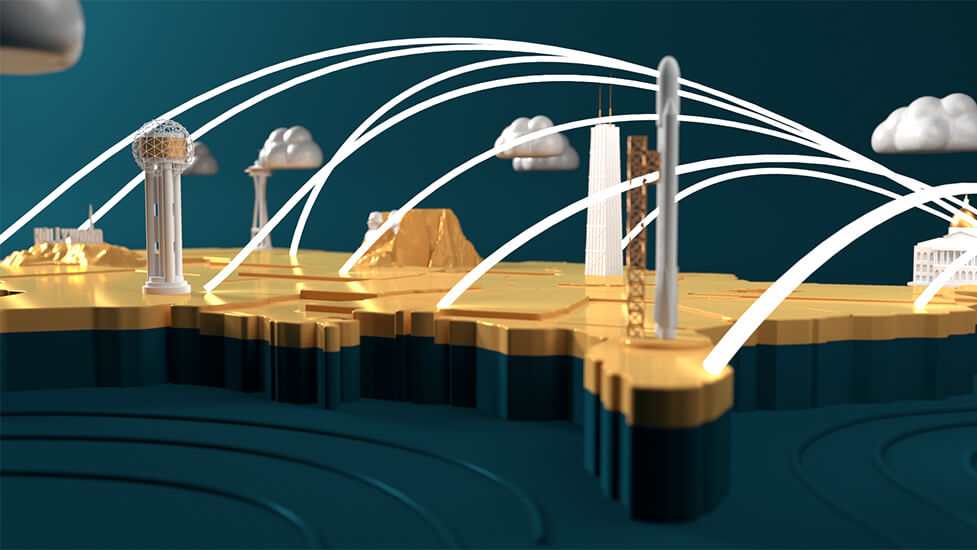 Our client's aim was to upload the animation to a content-filled homepage, so we had to make sure it wouldn't get lost on a website already brimming with information.
The initial length we had to play with also offered its own challenge: we were asked by our client to fit a two-page script into just 10 seconds of animation.
Solution
Without losing any of its impact, the first recommendation from our content and animation team was to cut down the script. Considering the busy digital environment the animation was intended for, we also recommended the use of 3D visuals, which we included as part of three style options we presented to our client before work started.
3D was the clear winner for our client because of the added depth and realism it adds to their message.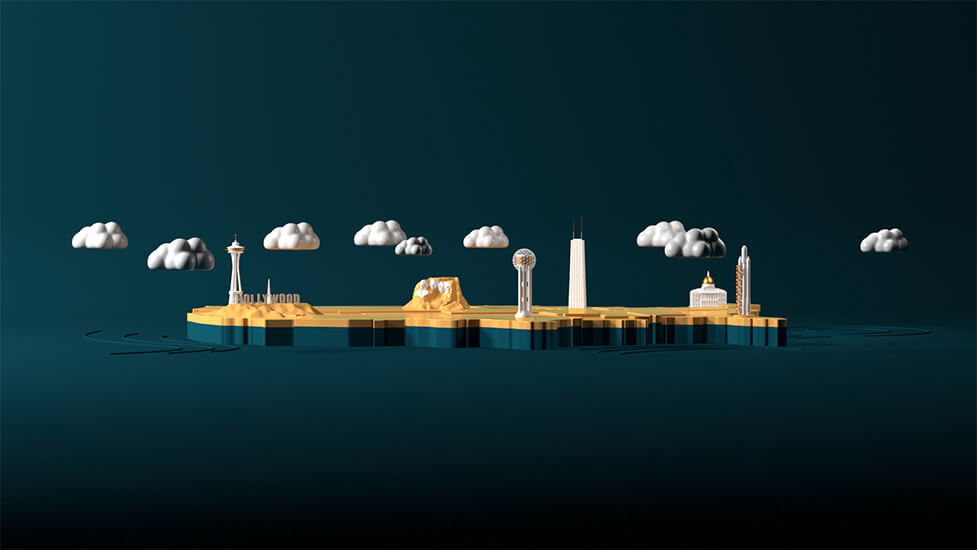 To visually represent the different OnCampus locations, we drew instantly recognisable American landmarks.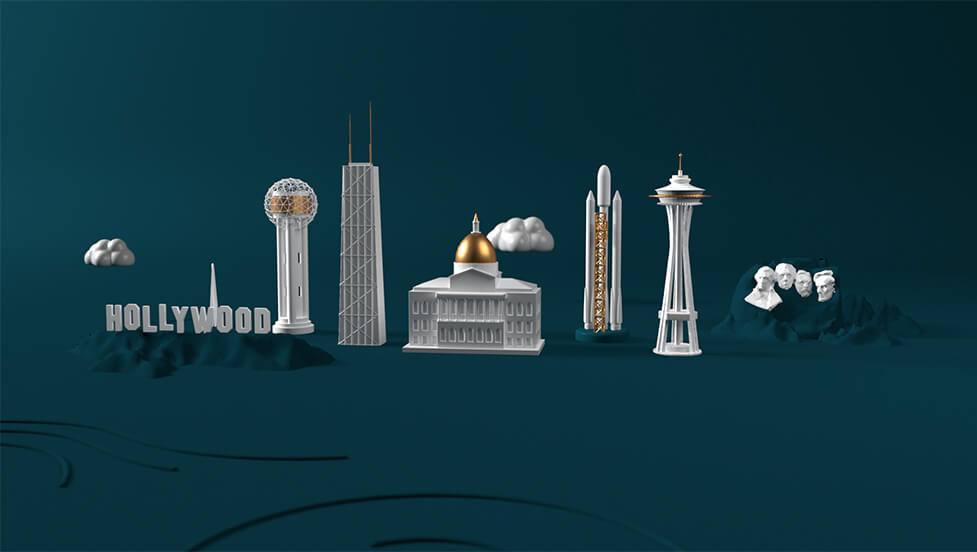 To represent Chicago, our client had initially chosen one of the city's most famous skyscrapers – Sears Tower. Instead, we opted for another Chicago architecture icon – the John Hancock Center (now known as 875 North Michigan Avenue).
The tower's distinctive shape, height and X-braced exterior lend themselves perfectly to what can be achieved with 3D animation.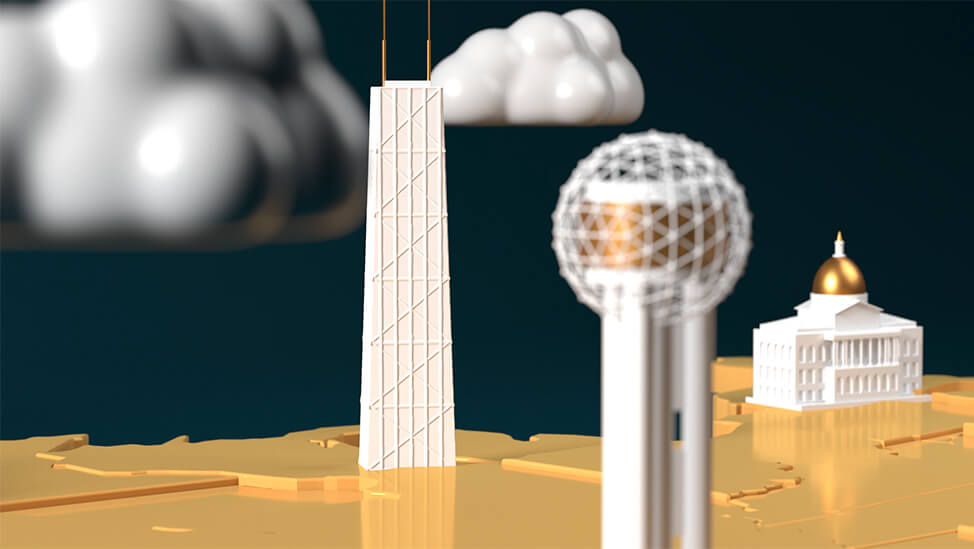 The Hollywood sign, Mount Rushmore in South Dakota, Cape Canaveral in Florida… all help transport students to the OnCampus universe, transmitting the strength and scale of the kind of future OnCampus can help them achieve.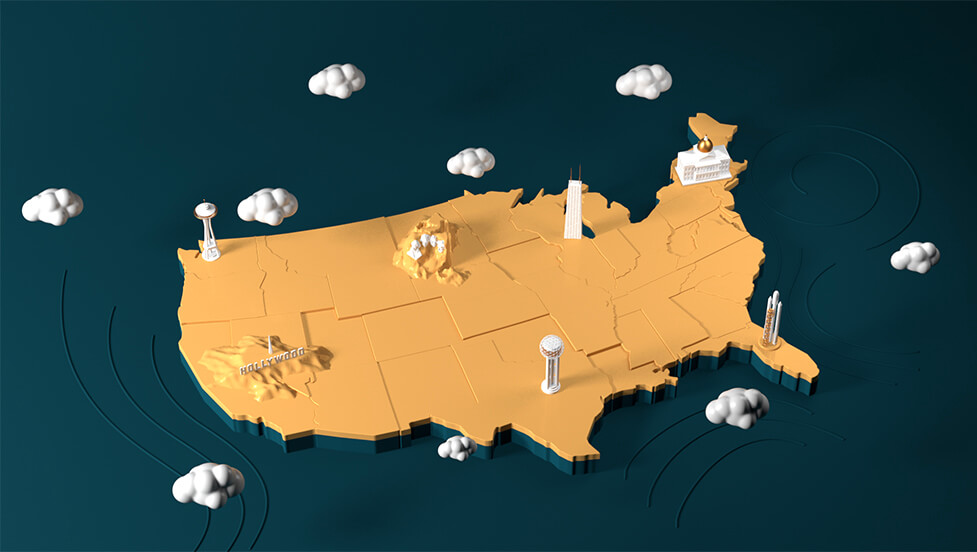 To add visual balance to the map, we also incorporated a famous observation deck in the South – the Reunion Tower in Texas.
The simple yet impactful colour scheme of the student recruitment animation – bright golds and dark teal tones – help add a sense of prestige, achievement and professionalism.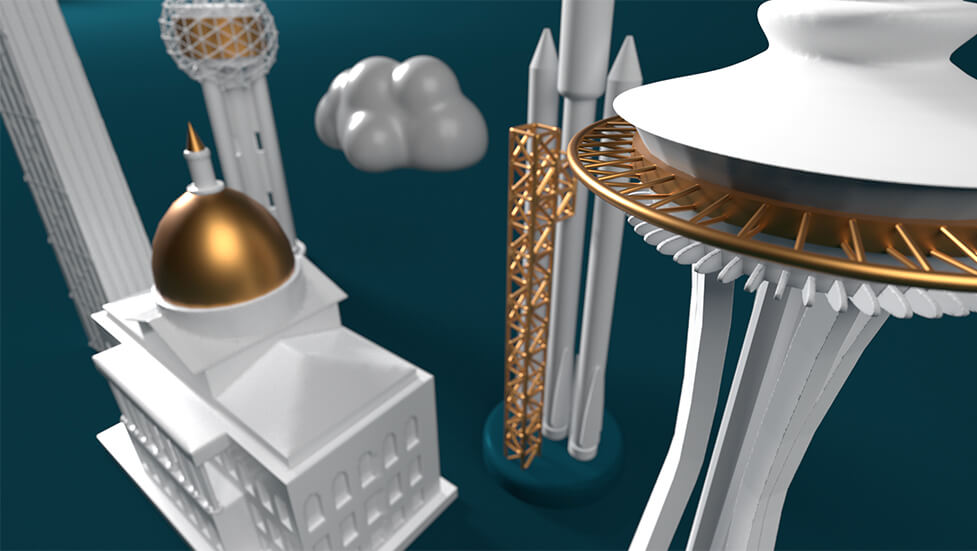 Technical highlights
We chose Cinema 4D as it's a very intuitive tool, with extremely high quality results
We framed the animation with a lot of safe space around it to ensure it would display correctly across a wide range of devices and browsers
We rendered using Solid Angle's Arnold as it provides more realistic textures and lighting options
We changed the specification of some of the RGB colours used to reflect lighting changes
We animated the Universities USA logo at the end using Adobe After Effects, due to its versatility and overall potential