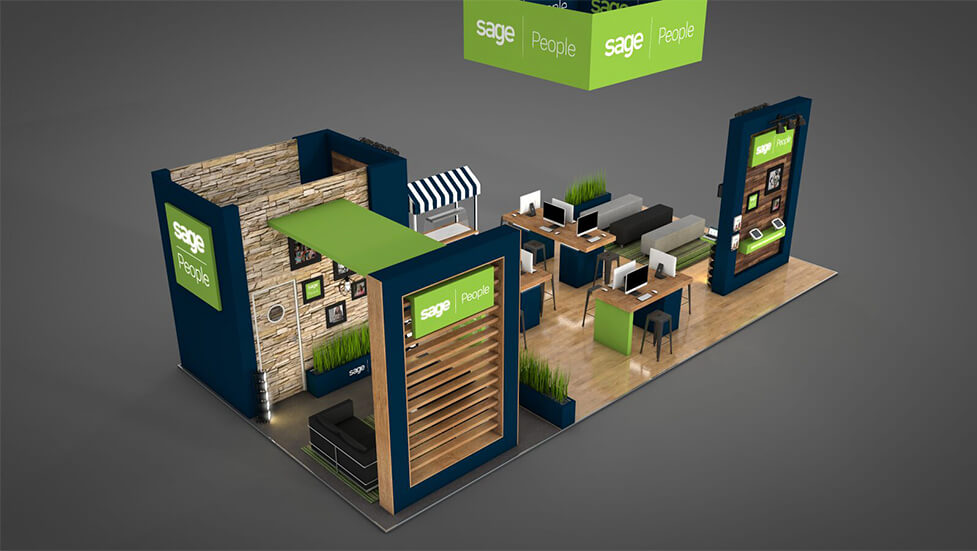 Two key industry shows and two different plot sizes – thanks to a fully adaptable trade show booth design we helped Sage promote its HR technology to thousands of delegates.
Background
Sage People is an award-winning HR system that helps businesses transform the way they acquire, manage and engage talent. To promote its innovative technology, Sage had signed up to two major shows in the industry calendar – the Unleash Conference & Expo and the CIPD Festival of Work. Both shows attract thousands of HR professionals looking for the latest innovations to power their efforts.
Challenge
Sage wanted to maximise their presence at both shows, as well as their initial investment. Their aim was to command equal attention, but they were faced with a very specific challenge: 2 different plot sizes.
We needed to come up with a solution that would make the most of the relatively small 6x6m plot size at Unleash, and then be able to expand and move on to Festival of Work, with a bigger 12x6m space available. The trade show booth would need to have all the visual impact of a custom-built stand, whilst delivering the adaptability normally found with a modular system.
Solution
Following Sage's branding scheme – where natural materials, exposed stone and brick effect walls, timbers and minimum colour come together to create a relaxed and approachable atmosphere – we created two highly versatile stands, each attracting attention in their own right and working well as independent designs. The smaller trade show booth stays away from giving the impression that something's missing, whilst the bigger one doesn't feel like a mere assortment of added-on elements.
To maximise space in both cases, the design relies on high and open structures.

On the left, the 6x6m stand for the Unleash show at ExCeL. On the right, the design for CIPD Festival of Work at Olympia. The original has been transformed into a stand that is twice the size at 12x6m.
1 – Unleash – 6x6m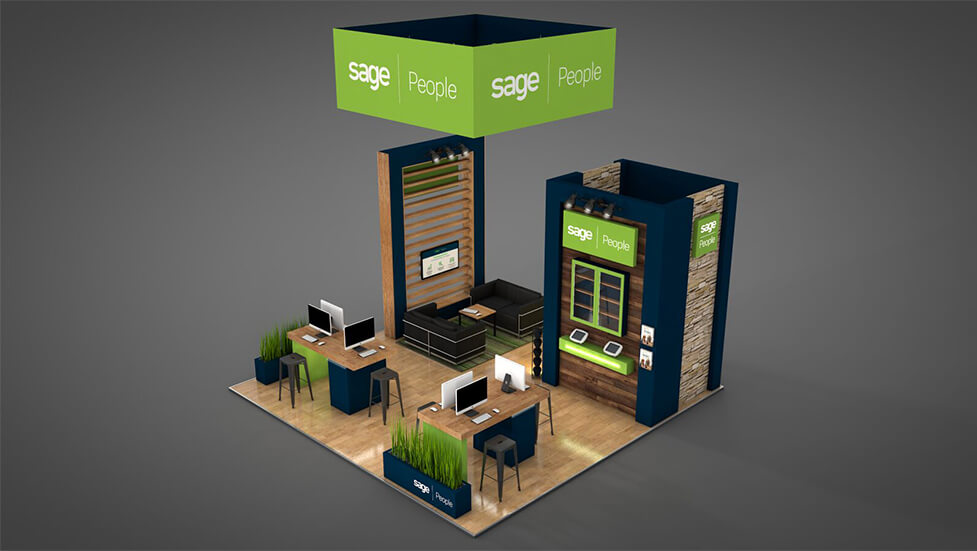 For Unleash, we carefully considered space, making sure there was enough room for delegates to move comfortably within the exhibition booth. The stand design is compact, yet airy and welcoming.
Despite its relatively small size, we configured it in a way that allowed us to accommodate a wide range of elements: 6 iMac demo stations with wireless keyboard and mice, integrated iPads, soft seating area, coffee station, fridge and secure storage area.
To maximise visitor traffic to the demo areas, we included custom-built tall tables and stools. The table height and spaced out informal seating not only helped maximise space, but also contributed to the overall openness of the stand, with delegates flocking to gather round the demo tables even when there was only standing room available.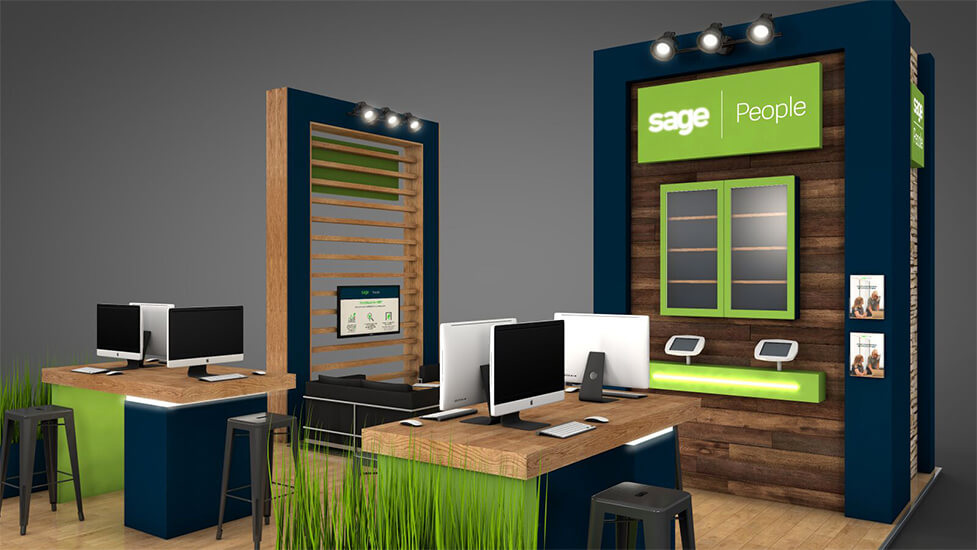 As an added incentive, our client had decided to give away a Sage-branded mini drone to every delegate who had taken part in a software demo. To help promote the initiative, we custom-built an illuminated and glass-fronted display cabinet to house the drones – they (not literally) flew off the shelves.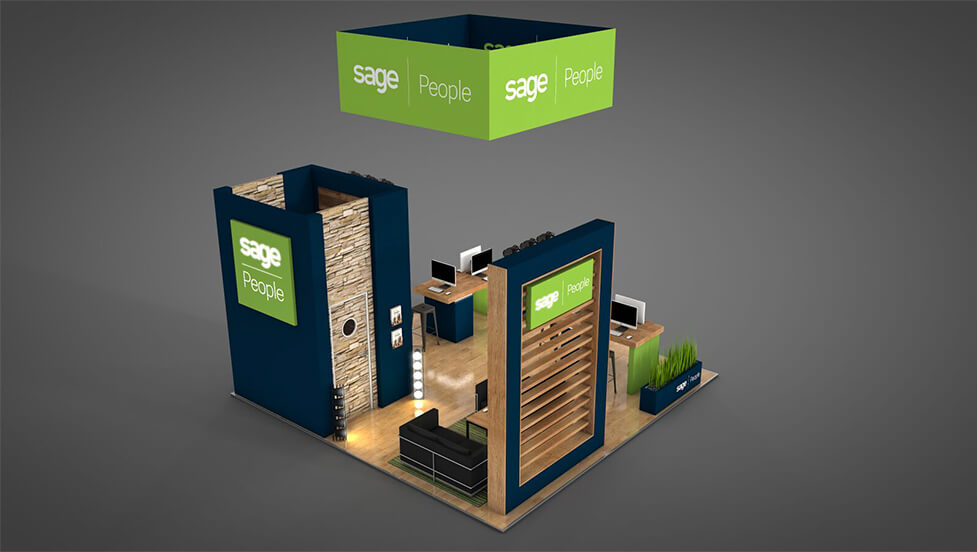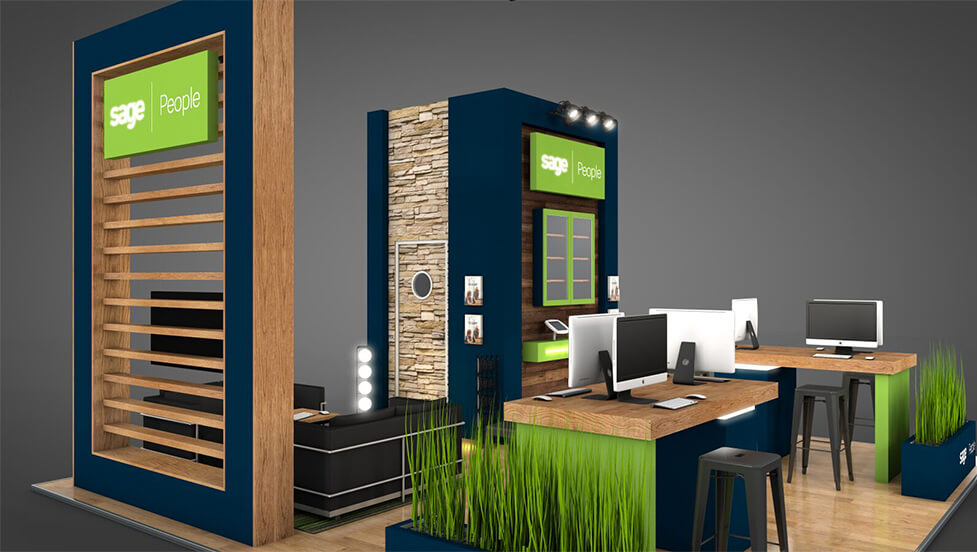 Planters, feature lighting (wall and floor-mounted) and a comfortable lounge area add a sense of warmth as well as structure to the space. The lounge area also doubled up as an additional VIP demo zone, with a hidden laptop connected to a wall-mounted screen, all controlled from a discrete wireless keyboard on the coffee table.
2 – CIPD Festival of Work – 12x6m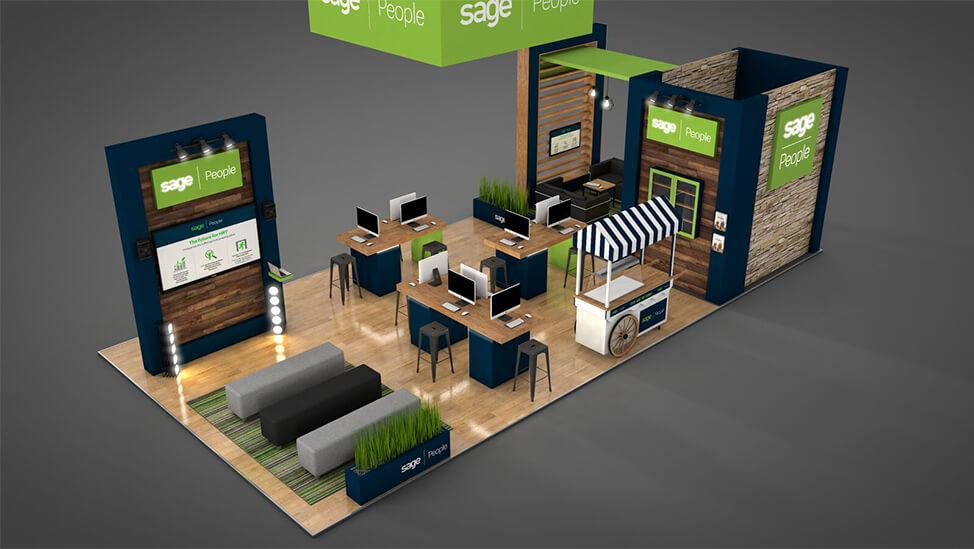 For the CIPD show, with a plot area twice the size, we added some new elements, and also repurposed some existing ones to maximise budget: we reused the wall feature, storage and lounge areas, feature drone cabinet, and we added more demo stations – 10 in total, distributed across 3 tall tables.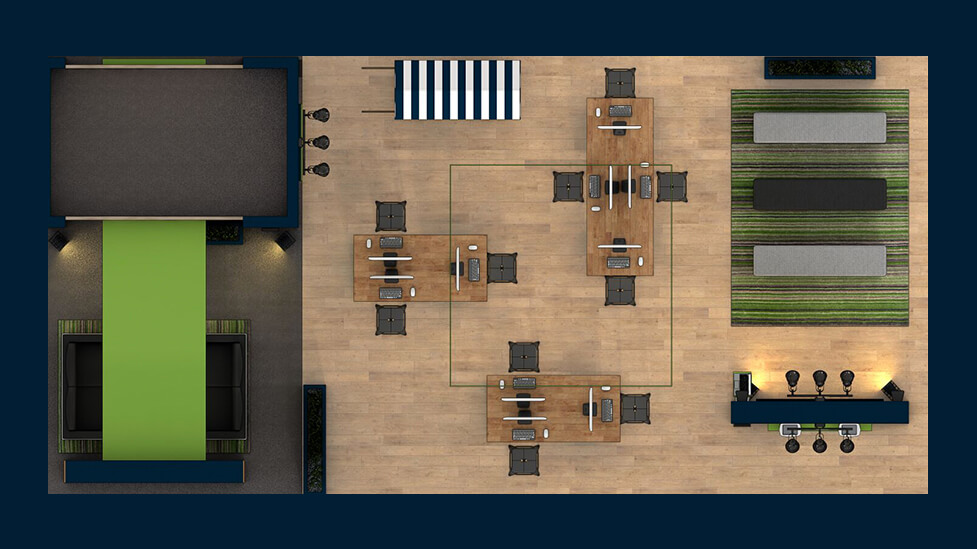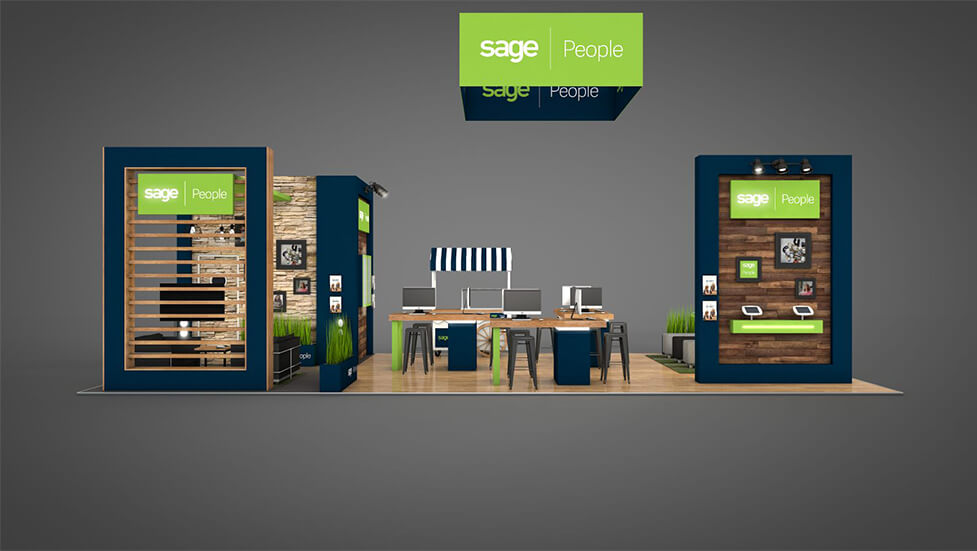 We also added a canopy with wire pendant lights over the sofas. This, together with planters, the feature wall and soft lighting contribute to an intimate atmosphere that encourages longer discussions.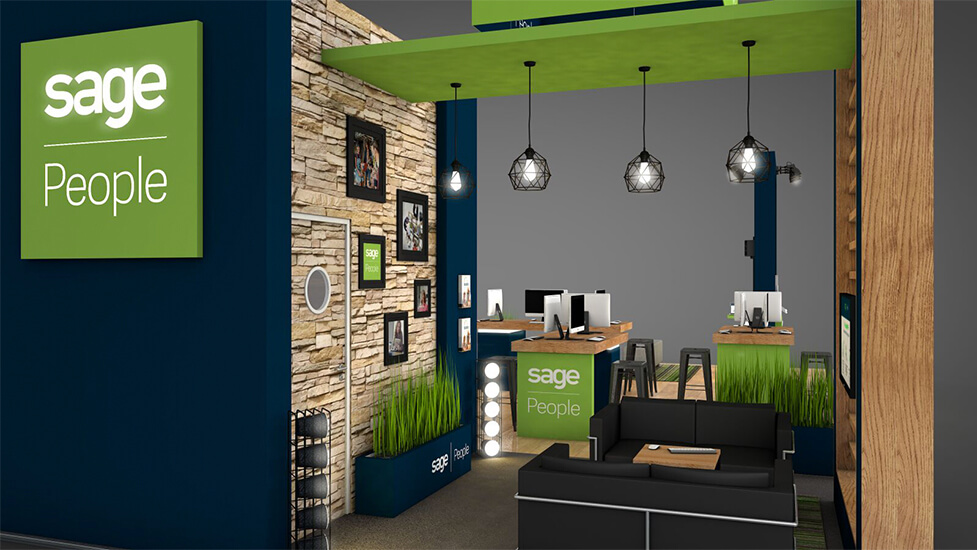 Aiming to create differentiation against other exhibitors, we created an imposing tall feature that helped attract attention to a mini seminar area, where we installed a giant screen for presentations, 3 soft benches with standing space around them, and the feature floor and wall-mounted lights we had already used in the smaller stand.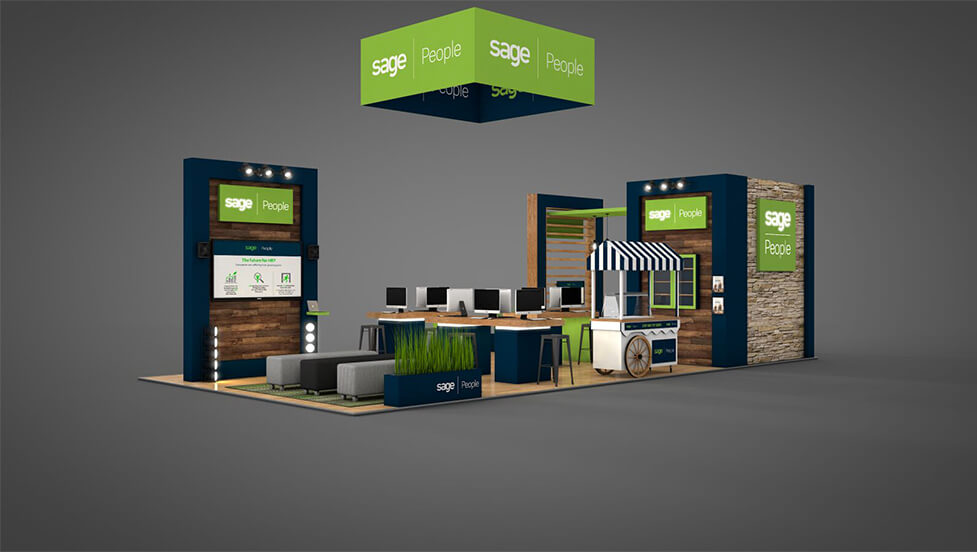 The seminar area was completed with a full PA system with directional speakers to avoid distraction in the adjacent demo stations. The wall even included a little integrated lectern, while planters at the "back" of the seminar theatre added a fresh and informal touch and helped define the area, whilst being low enough to offer an uninterrupted view of the seminars from adjoining aisles. This approach not only enabled more delegates to enjoy the presentations, but ultimately helped form a crowd around the stand, acting as a magnet as it helped generate curiosity amongst passers-by.
We utilised the back of the seminar wall to create an additional demo area featuring iPads showing how Sage's cloud-based software works across a variety of platforms. This area also carried additional illuminated Sage branding and framed case studies.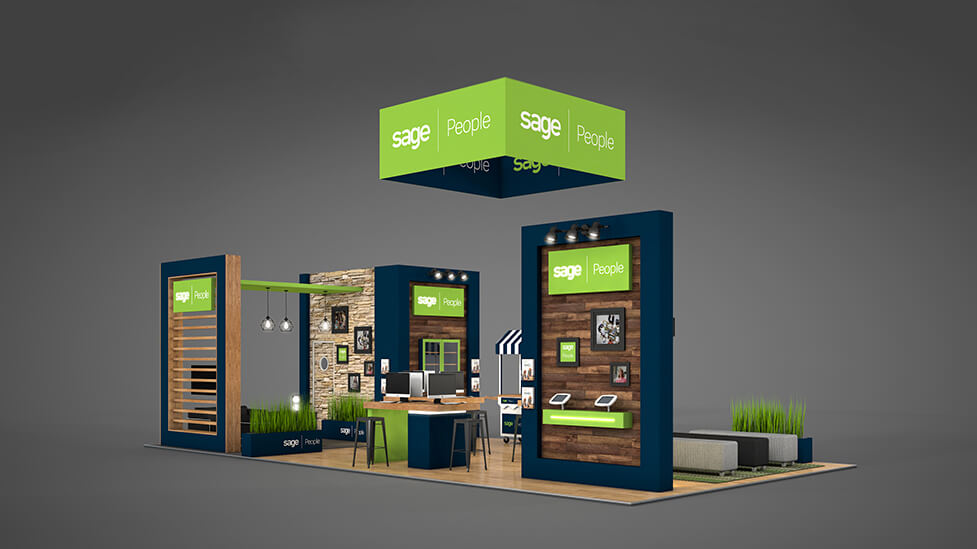 One of the highlights of the show – another definite hit with delegates – was a fully branded artisan ice cream cart. In just 2 days, the stand gave away over 1,000 Sage-branded tubs of ice cream.