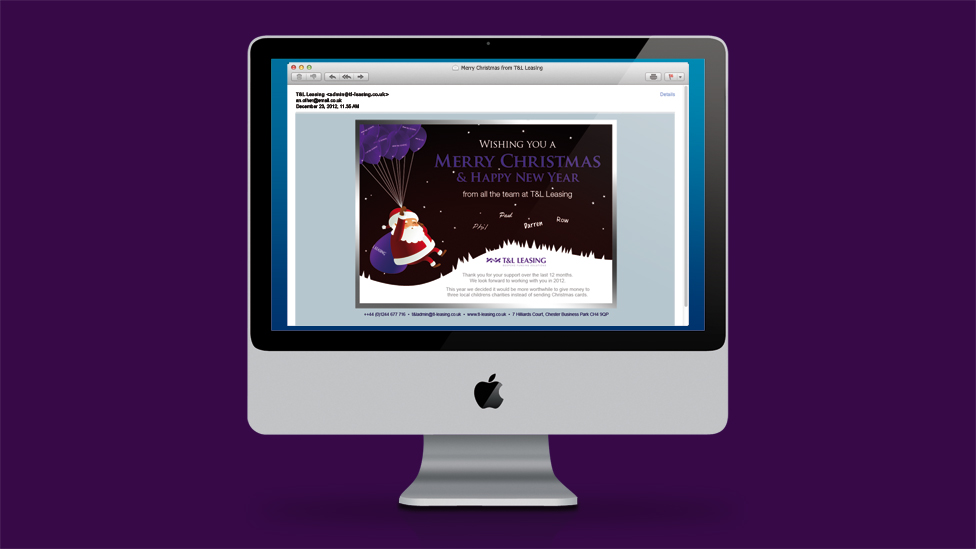 A friendly and highly memorable Christmas email newsletter design that generated plenty of positive feedback.
Background
Funding company T&L Leasing has more than 60 years experience in the commercial vehicle industry. Thanks to well established relationships with an extensive panel of Global Lessors, T&L Leasing is able to offer a wide range of funding products and deliver unrivalled customer service to its clients.
Challenge
Keen to send good wishes to their extensive customer and lender base, our client asked us to design and develop a light-hearted and highly engaging Christmas email newsletter which they could send out to their target audience a few days prior to the festive holiday.
Solution
Using the clear analogy between Father Christmas delivering parcels to children all over the world, and T&L Leasing successfully delivering funding solutions to their customers, we created an illustration displaying the portly festive character being transported around his global duties by T&L Leasing branded balloons.
This concept, combined with a personal message thanking their customers for their business, received great feedback from recipients of the Christmas newsletter. The T&L Leasing directors also chose to donate the money they would have spent sending Christmas cards to customers and partners instead to three children's charities local to their head office just outside Chester.
Have a look at other examples of effective email marketing ideas.