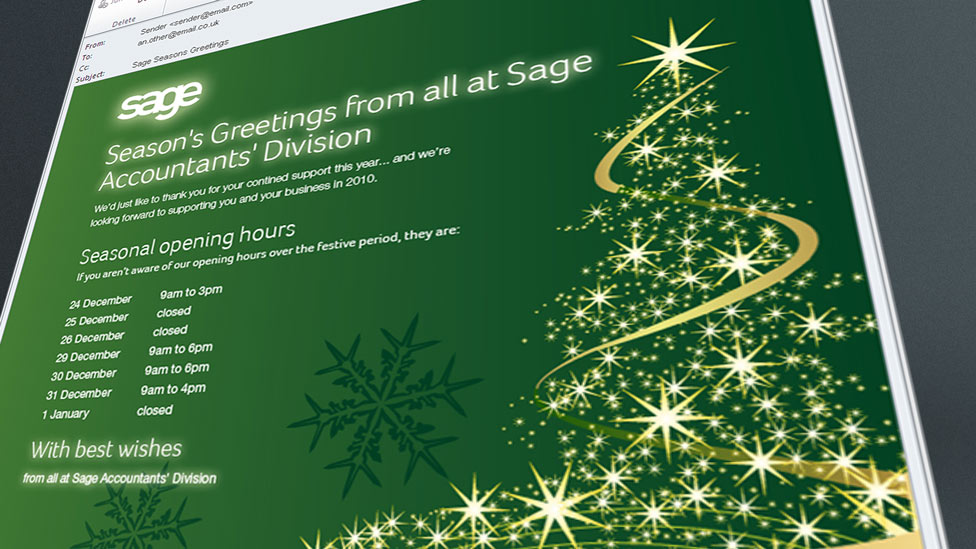 We produced a simply beautiful Christmas e-shot design that combines the season's sparkle with Sage's colour tones to produce a polished creative where two important messages are given equal prominence.
Challenge
The Christmas e-shot design had a dual purpose: to thank Sage's audience for their business in the year that was coming to an end, and to also inform them of their opening hours during the festive season.
Solution
The design is kept simple to avoid distractions and ensure both messages receive equal importance in the audience's minds.
"I was delighted working with Parker Design.

The team work in a very intuitive and thorough way, delivering to very tight timescales."
Limiting colour to an energising swirl that perfectly represents this significant time of year and a solid background, the Christmas e-shot design succeeds at remaining within the spirit of the season and professional at the same time.
Have a look at other examples of effective email design and marketing ideas that deliver tangible results.
The design offers a perfect balance thanks to the contrast between the darker tones of Sage's brand green, and a touch of subtle light and sparkle emanating from both the copy and the Christmas-tree inspired feature.