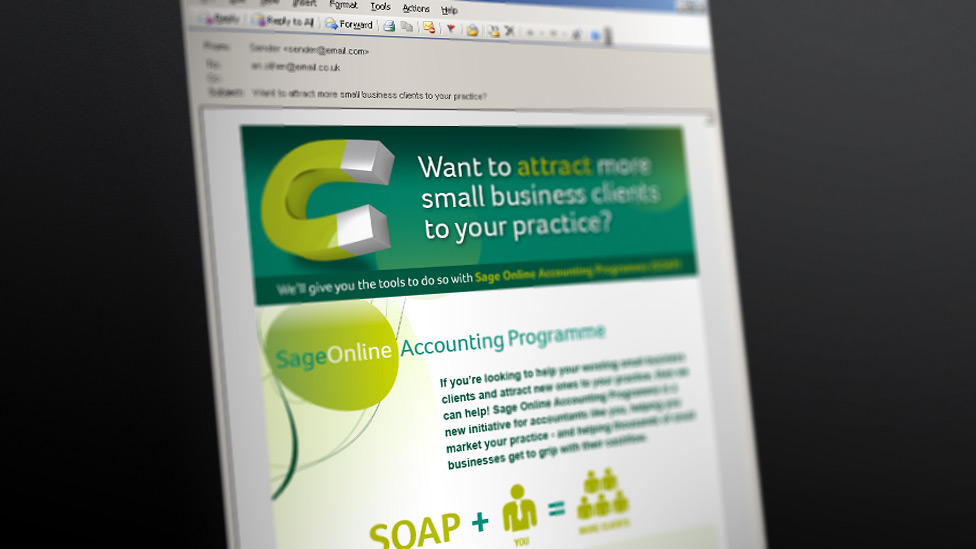 We created a high impact email campaign to promote a new online service.
This campaign for Sage consisted of a number of HTML emails sent to the same audience over a period of weeks, each with a slightly different message. The design of the email features strong use of graphics, attention-grabbing headlines and plays heavily on the use of Sage's familiar corporate colour green.
Although the email campaign contains a lot of detail, the message is simple and clear to understand.
Working from the client's copy, we broke the information down into clear chunks. Opening with a question designed to instantly grab the reader's attention, we then broke the body of the message down into manageable sections, each illustrated with supporting graphics, and ended with a clear call to action.
The key to a successful campaign, like any other direct marketing campaign, is about quickly capturing the reader's attention. An email campaign can not only do this more cost-effectively, by removing print and postage costs, it also enables measurement of how successful the campaign has been, seeing who's opened and who's clicked through wanting to know more.