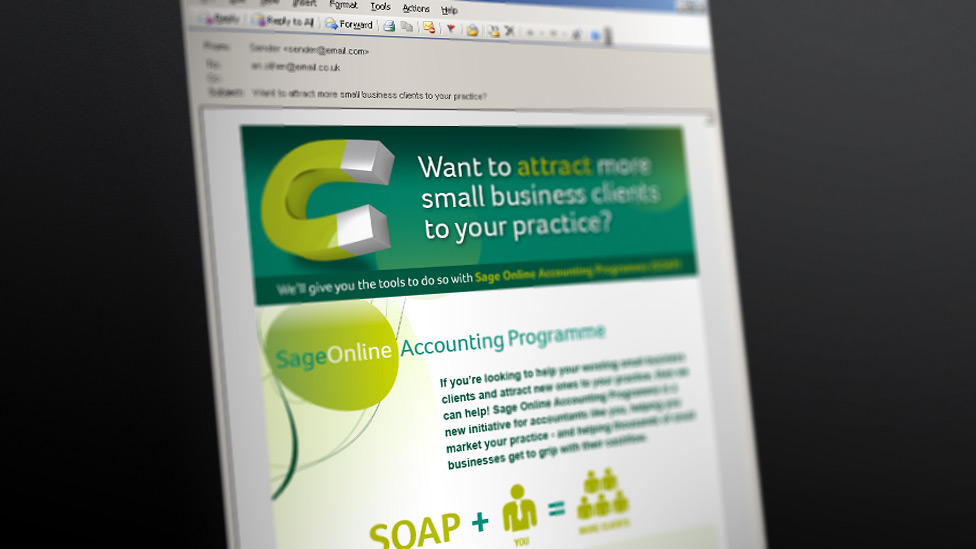 We created a high impact email campaign to promote a new online service.
Background
The key to a successful email campaign, like any other direct marketing campaign, is about quickly capturing the recipient's attention. An email campaign can not only do this more cost-effectively, by removing print and postage costs, it also enables thorough measurement of how successful the campaign has been, seeing who opened the email and who clicked through on the links within wanting to find out more.
Challenge
Sage needed our help designing and distributing a number of HTML emails to the same audience over a period of weeks, each with a slightly different message.
Solution
Focusing on the design first, the email newsletter features strong use of graphics, attention-grabbing headlines and plays heavily on the use of Sage's corporate green colour palette to capitalise on the audience's familiarity with the brand.
Although the email campaign contains a lot of detail, the message is simple and clear to understand thanks to a well thought-out structure.
Working from copy supplied by our client, we broke down the information into clearly distinct sections. Opening with a question designed to instantly grab the reader's attention, and which could be seen in email previews to impact open rates, we then broke the body of the message down into manageable sections, each illustrated with supporting graphics, ending with a clear call to action that fills the audience with energy.