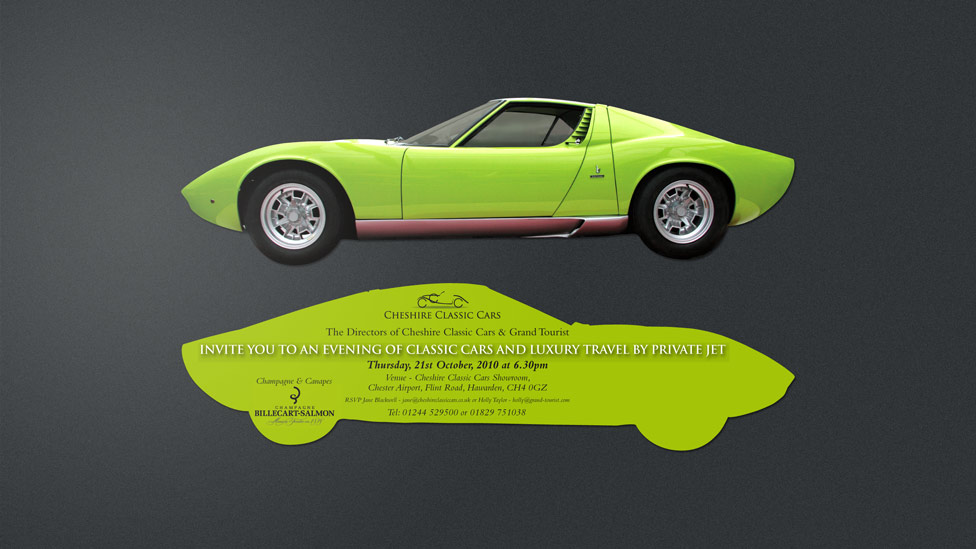 We created a unique event invitation design for a joint promotional event hosted by Grand Tourist and Cheshire Classic Cars.
Background
The perfect combination for a successful event: Grand Tourist and Cheshire Classic Cars.

Grand Tourist – a niche travel company that specialises in unique tailor-made experiences.
Cheshire Classic Cars – a leading classic car specialist that provides its global customers with sales, service and restoration of classic prestige, high performance and competition cars, including Rolls Royce, Bentley, Jaguar, Aston Martin, BMW, Porsche, Mercedes, Maserati, Ferrari and Lamborghini.

Challenge
To create an event invitation design that would immediately capture the attention of the sophisticated audience.
Solution
We based the invitation design on a profile photo of a classic Lamborghini car. Simple yet striking, the design perfectly appeals to the target audience.
Using specialist print and finishing techniques such as die-cutting and digital printing, we achieved a unique invitation design that exudes exclusivity and immediately generated high levels of demand. The promotional event invitations were distributed in personalised envelopes – another highly engaging touch.
The event was a real success for both Grand Tourist and Cheshire Classic Cars, attracting a very high turnout.
Have a look at other effective design projects we've worked on for Grand Tourist, such as a stunning brochure to promote their Grand Tour experience, an innovative direct mail piece, and a travel guide that gets audiences closer to their destinations.