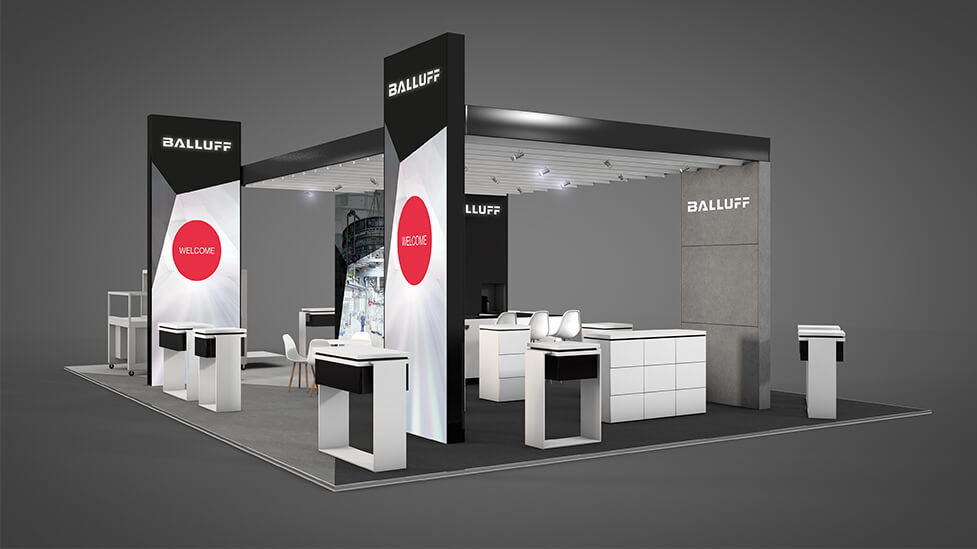 A striking demo stand that commands attention, and made a success of our client's investment in the PPMA Show.
Background
The PPMA Show – the UK's biggest event for the industry – serves as a showcase for hundreds of international exhibitors representing 1,500 brands all under one roof, where 7,500 visitors – from sectors as varied as food and drink, pharmaceuticals, household products and toiletries, pet care, micro-breweries and distilleries, chemicals and FMCG – are presented with the latest innovations in processing and packaging machinery, as well as robotics and industrial vision systems.
The show is also a forum where advances in containers, materials, packaging design and the latest sustainability solutions are showcased.
Challenge
Following the success of the previous year's stand design, where we had collaborated with our client to deliver a highly interactive brand experience, this time our brief was to maximise the plot size and position to turn this PPMA Show into an even bigger success, where delegates could interact with a wider range of products. And all whilst keeping to a strict budget.
Solution
With budget front of mind, we repurposed and rebranded the stand columns and store room that we'd used the previous year. This not only helped our client realise some significant cost savings, but it also ensured a consistent experience for delegates who attend year after year, who would immediately recognise and flock to the Balluff experience.
Above, the previous year's stand design.
Below, this year's demo stand, with repurposed columns and cube store room.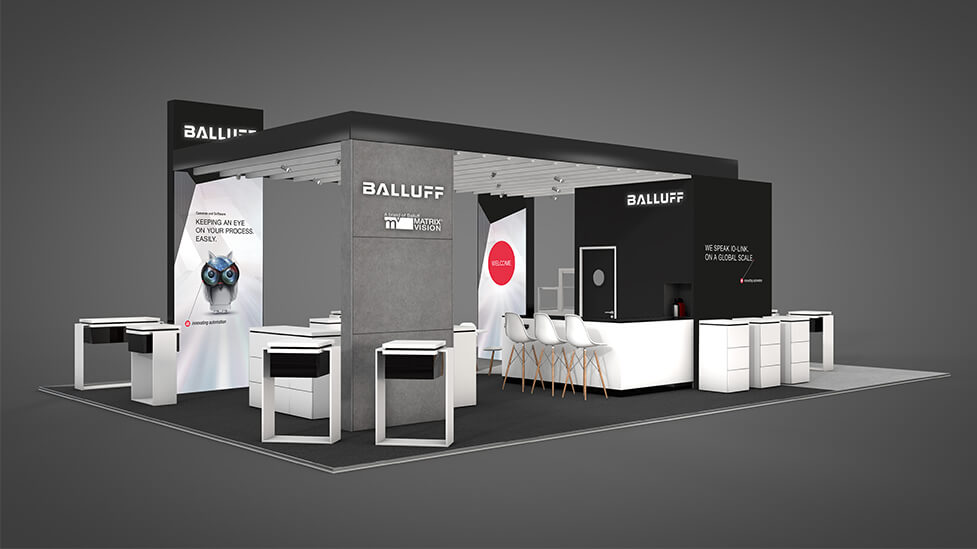 With the plot positioned in the middle of the exhibition hall and close to the entrance, we built a 12 x 8 m stand that would be visible from three sides. A striking yet simple colour scheme and prominent branding help the demo stand command attention in the exhibition space.
"The stand looked great, thank you. We were very pleased with the end result and

have got some great leads to work with.

Thank you for all your help."
Despite being filled with a wide range of demo stations and machinery – one of the demo machines weighing 1 ton – the stand feels airy and welcoming.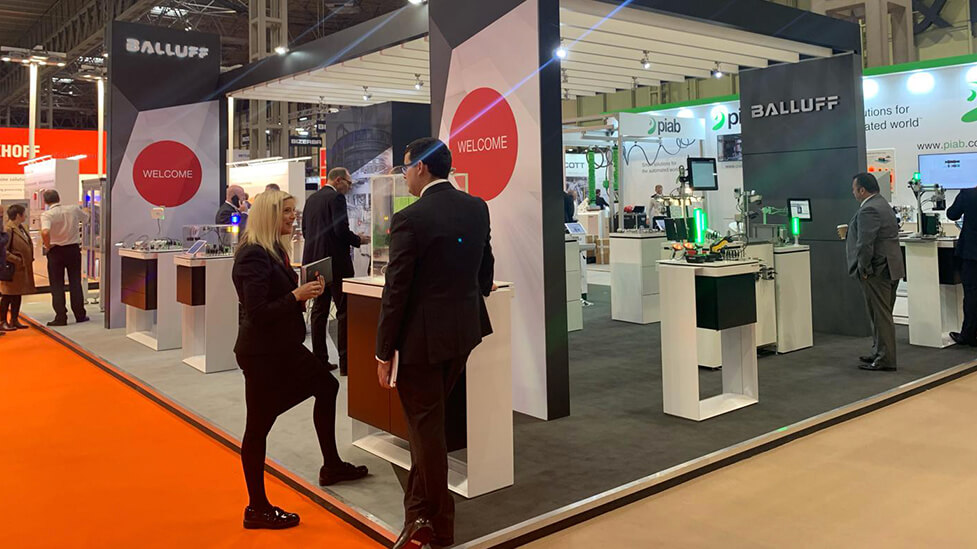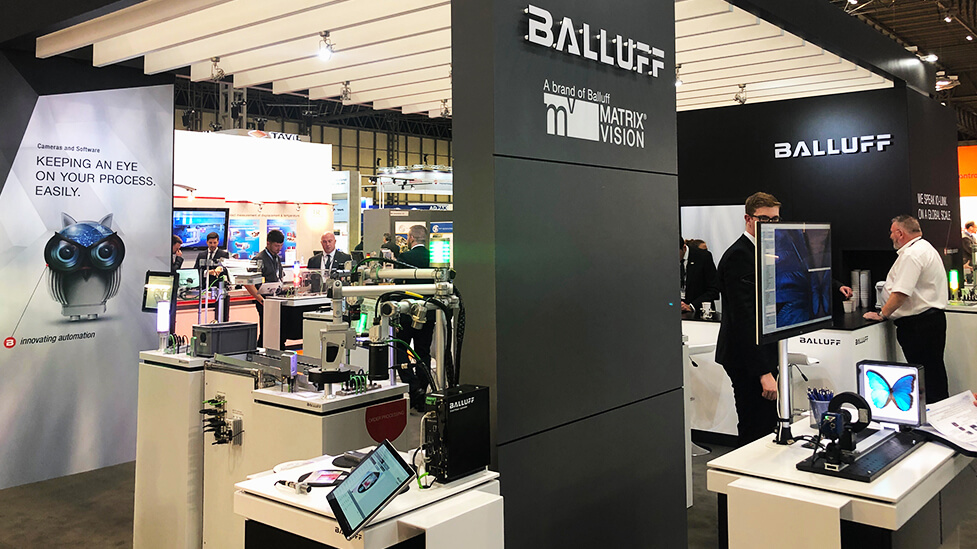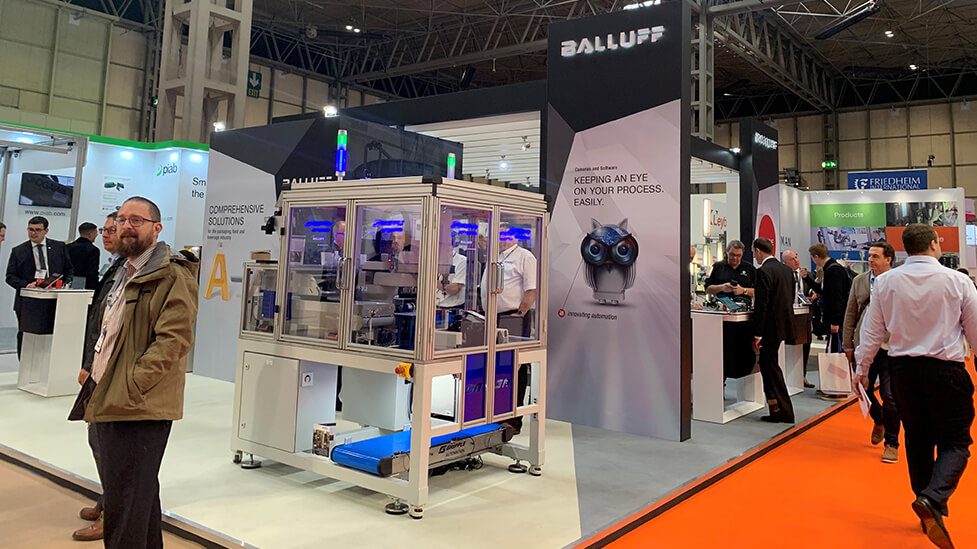 When designing the layout we ensured there were different breakout areas, and there was also plenty of standing room available to give delegates choice when planning their PPMA itinerary.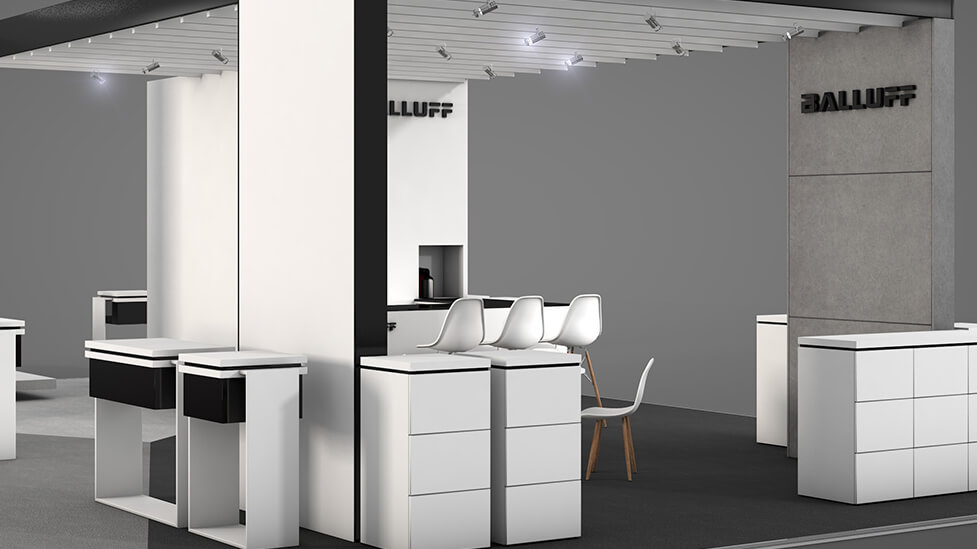 By limiting the number of brand messages, but adding prominence through large font sizes and touches of colour, impact across the hall is maximised.