These sophisticated pharma infographics educate clinicians and healthcare companies about how they can collaborate to achieve better patient outcomes.
Background
The Association of the British Pharmaceutical Industry (ABPI) is an organisation that represents the interests of the UK's biopharmaceutical sector. In preparation for a key industry event, it wanted to highlight the important role that both healthcare professionals and businesses within the life sciences industry play in the development of new medicines and treatments.
Challenge
Our client needed a persuasive educational tool that could be easily shared and would stress the need for clinicians and healthcare companies to work together to achieve better patient outcomes.
Solution
We devised a set of pharma infographics that would allow our client to communicate their key message in multiple ways. With a colour palette taken from APBI's logo, we created an informative piece that could easily be posted and shared digitally, or turned into a printed handout for medical conferences.
Divided into four key areas – clinical research, medical education, advisory boards and media activity – the pharmaceutical infographic design outlines exactly how clinicians and pharma companies support one another throughout the drug development process. This provided an easy way to deliver an overview of the issue, while also focusing on key development areas that would pique the interest of their audience.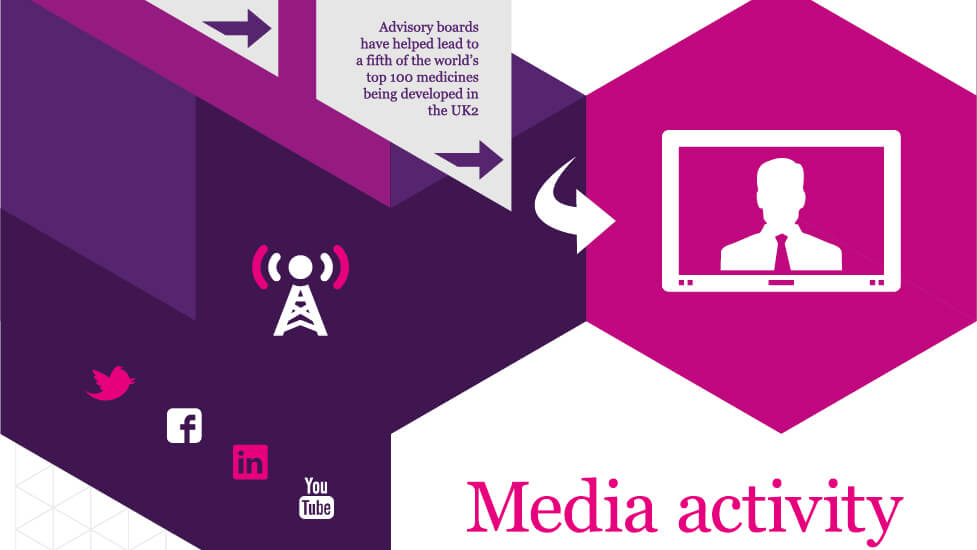 The completed infographic was well received and used at several industry events as an educational resource for healthcare professionals. It was also repurposed as blog and social media content.
Highlights
The simplified visuals and bright colour palette balance out the large quantity of text, allowing readers to absorb content more effectively.

Angles borrowed from our client's logo were used to create a geometric style that increases visual appeal, while subtly strengthening brand recognition.

Simple icons were designed to highlight key data for clinicians as they move through the treatment development process.

Over the years we have helped a wide range of clients communicate with audiences through engaging infographic design. Have a look here to find out more.