This Prezi presentation design helped AstraZeneca communicate the human impact of worksite accidents with the aim to reduce the number of health and safety incidents amongst employees worldwide.
Background
To reduce all accidents and incidents to zero across its global workforce, the Global Engineering team at AstraZeneca embarked on an awareness and education campaign that required, amongst other elements, a Prezi presentation design.
The campaign – underpinned by a strong belief that every employee can personally impact their colleagues' wellbeing – had been launched with the production and distribution of an employee engagement brochure, created to help construction site employees understand their role in maintaining a safe work environment.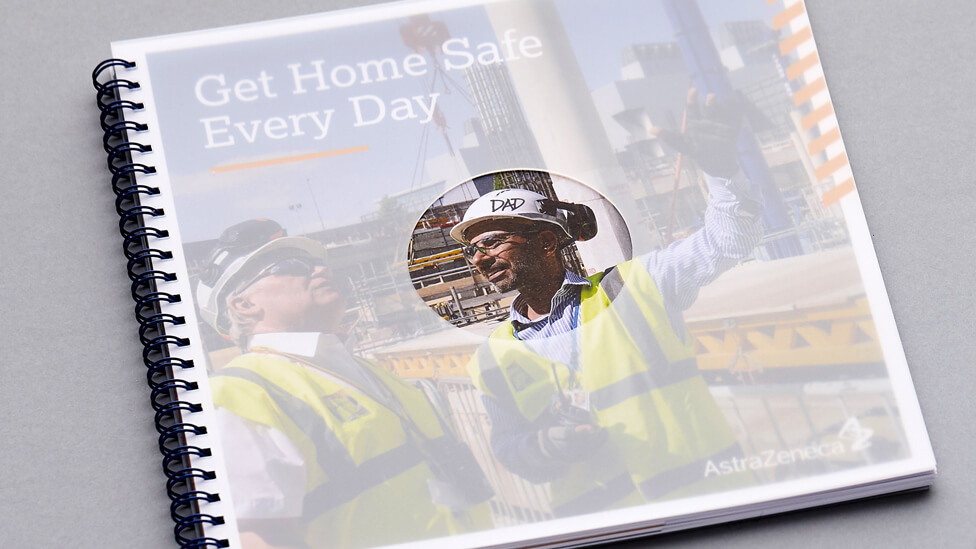 Challenge
The new presentation design needed to act as a backdrop to our client's 'Behavioural Theatre' sessions. Devised to personally share the message across global sites and offices – and reinforce the strong human element of the initiative – the sessions consisted of interactive scenarios where various health and safety incidents were acted out, serving as a way to educate employees on measures to avoid incidents, or what steps to take if they happen.
The presentation also had to help structure the sessions and act as a point of reference for the audience, without distracting them from the message being communicated 'on stage'.
Solution
We recommended the use of a Prezi presentation as the perfect solution. This format offers many advantages compared to alternatives such as the more traditional PowerPoint – which can often appear less engaging and corporate.
The Prezi format also offers many of the benefits of a video animation, but with fewer distractions. As a highly engaging vehicle, Prezi lets information flow organically thanks to subtle animations that add movement and energy to the screen, while ensuring its main purpose as an information tool remains.
Highlights
The Prezi presentation ties in perfectly with the live interactive environment, thanks to the use of vibrant colours and subtle animation effects that transmit a sense of calm and decisive action.
Its user-friendly functionality reinforces the role of the presentation as a powerful information tool that facilitates human interaction.
The light content and focus on topics introduced by bespoke playful icons help the presenter visually structure the presentation for a diverse global audience, encouraging participation and live discussion.