To position Invosys as a disruptor in the telecoms industry, we worked with them to develop and launch a revolutionary branding design refresh.
Background
Our client – a leading communications software company – has an ambition to be the global innovators in their sector. Following a period of growth and acquisition, the company changed its name to Invosys. The new name needed a branding design refresh to reinvigorate the company and help them communicate their ambition to challenge the norm.
Challenge
The existing brand was no longer a reflection of what the company had achieved and the exciting future ahead of them. With a lot of new talent joining the company, the new brand had to help employees identify with – and believe in – Invosys's mission to become global disruptors thanks to cutting-edge, yet simple, products. The brand also had to help change perceptions of the company amongst the target audience, in an industry where very corporate messages dominate.
Solution
Inspired by our client's vision, we evolved their existing logo into a unique and confident identity that perfectly encapsulates Invosys's energy and desire to do things differently.
Following a creative workshop with the client, we developed a central brand theme: "The Revolution is Calling", a powerful message that acts as a call to arms internally and attracts the attention of the target audience.
Inspired by what the new brand signifies, we injected personality and movement into their logo by bringing out the "vo" in Invosys – and also in Revolution – within a speech bubble shape, and even gave this visual device a name: the Voyo.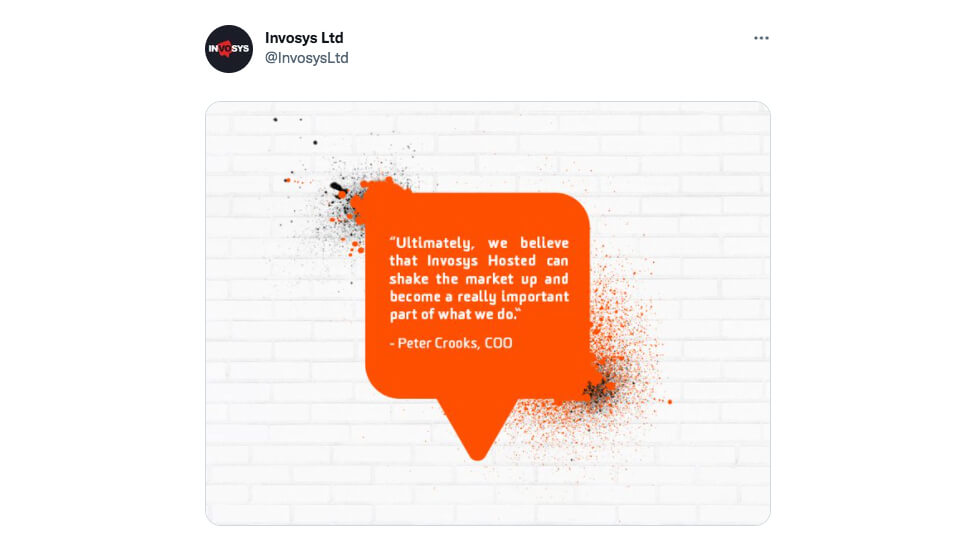 The speech bubble could then be adapted to communicate a variety of inspiring messages.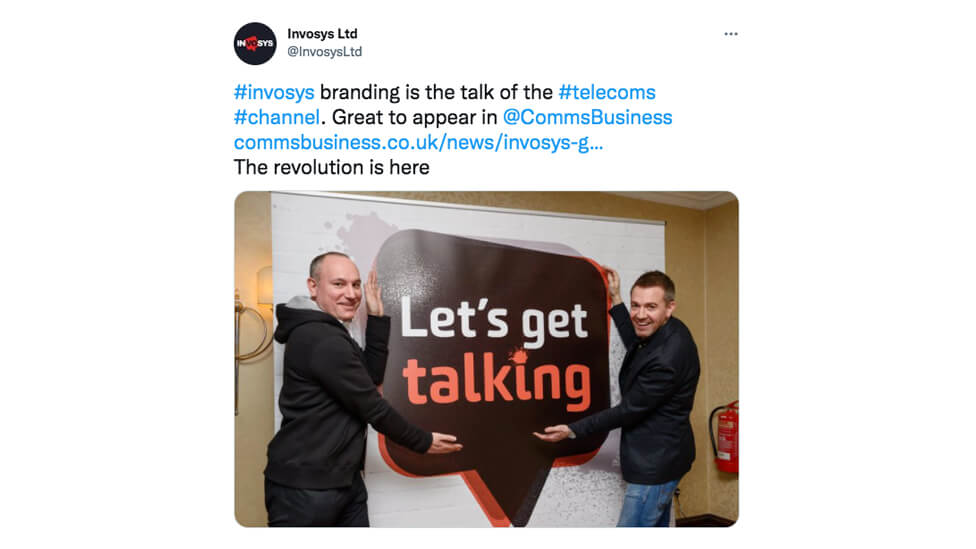 A bespoke graffiti wall we commissioned from artist James Blinkhorn filled the internal brand launch with energy.
The piece, on a brick wall background, transmitted the rawness of an enthusiastic business and the confidence of a leader who's not afraid to do things differently.

The graffiti provided a great opportunity for employees to immediately connect with the new brand and make their own mark on it.
As an inspirational give-away at the launch event, we included copies of Business for Punks, written by another successful business innovator – BrewDog's founder James Watt.
Each book included a fully-branded bookmark with the company's ten commandments, inspiring employees to embrace the new vision and take action.
Robust brand guidelines encouraged employees to take ownership of the new identity and adapt it to their needs.
We also produced a presentation for the launch and a full suite of identity materials, including business cards, stationery, product icons and press advertising templates.
We decorated the Invosys offices with the new brand materials ready for the morning after the launch.
The raw brick theme was taken through to desk tidies, reinforcing the idea that the brand permeates everything staff do.
Subtly-branded hoodies added to the casual yet energetic nature of the branding design refresh.