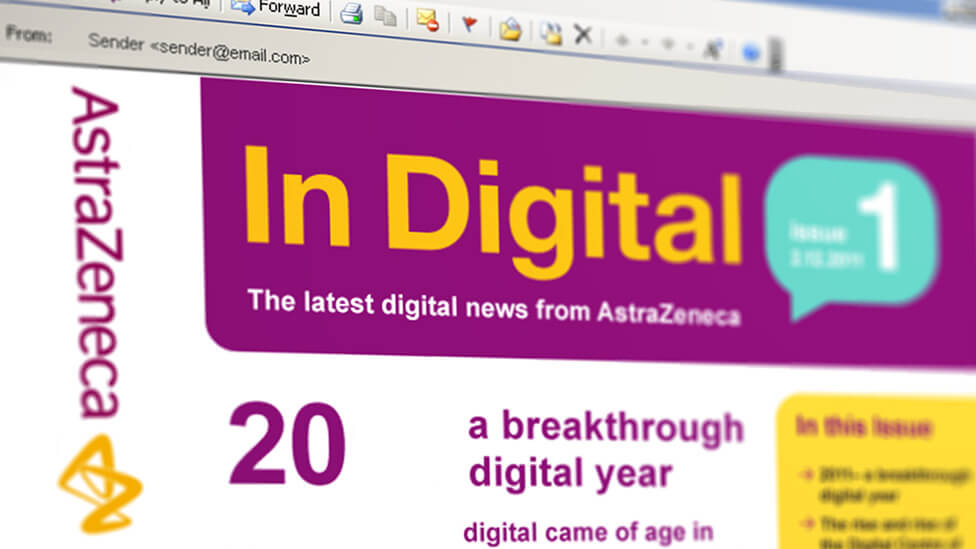 We delivered a set of contemporary, dynamic and clean HTML email newsletters, making for a punchy, engaging and attractive easy read month after month for an internal audience of sales and marketing teams.
Background
AstraZeneca prides itself on the emphasis it puts on communicating with employees in a timely and effective manner, and regular email newsletters are a key part of the company's internal communications strategy.
Challenge
We were asked to produce the initial design of the overall look and feel of a suite of HTML email newsletters, and continue to provide the design and build for each issue, which had been scheduled to be deployed every month. The HTML email newsletters had been conceived to promote AstraZeneca's Centre of Excellence as a living, interactive place for the digital community to share and learn. Our client was keen for the HTML email newsletters to act as much more than just a 'meet the team' communication.
Solution
Our team produced a contemporary, dynamic and clean design for the newsletter, making for a punchy and attractive easy and engaging read that immediately appealed to sales and marketing teams.
Because we would be supplying the newsletters to AstraZeneca ready to be sent out, we were able to have more freedom with the design and layout of each article from issue to issue, keeping the internal audience engaged issue after issue.
Have a look at other examples of engaging newsletter and email design that have helped clients of all shapes and sizes reach their communications goals.