Beautiful travel magazine design, coupled with engaging content, helped Exodus appeal to adventure travel enthusiasts and generated a 62% uplift in sales.
Background
The travel industry has changed significantly in the last few years. Natural disasters, travel alerts and a pandemic have impacted the way people feel about travelling. Also, savvy customers do their own research and expect so much more than a holiday: they long for experiences that feel unique to them.
Challenge
To help Exodus maintain their market-leading position by driving traffic to their website. To achieve this, Exodus had to communicate with their audience in a different way: tapping into their emotions, making the shift from aspirational to inspirational, or risk losing out on sales.
Solution
Our team of designers, illustrators and content marketing experts worked closely with Exodus to produce a design that feels and reads like a lifestyle publication.
We suggested content in line with Exodus's strategy, and advised on the most effective layout and order for each feature. We produced a plan for each editorial piece, tailoring visual and copy styles accordingly.
We interviewed Exodus experts and customers, and even included real holiday photos, always adapting the travel magazine design to tell the most engaging story. These insightful articles add to a truly personalised experience.
The use of illustrations allowed us to present content in different ways, keeping readers engaged after every page turn.
Different styles in the price listings and a clear structure maximise use of the magazine as a sales tool.
Highlights
Special features and tips, such as "Four Seasons of Asia", "Best for Diverse Eco-Systems" and "Best for Ancient History" – an evocative and effective way of presenting content.
Customer questions answered by Exodus experts.
Infographics add fun to the travel magazine design.
Results
Average 22% uplift in web traffic year on year.
Average 62% uplift in sales in first 4 weeks.
136% uplift in family holidays in first 2 weeks.
Great feedback from Exodus customers.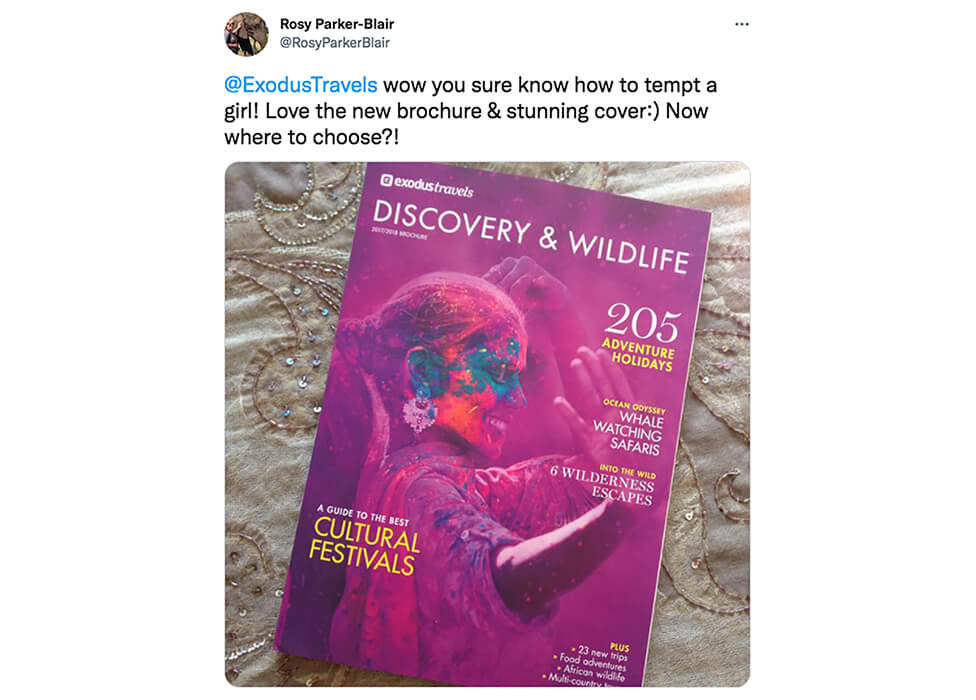 Breaking news
The Exodus and Parker Design teams are celebrating!

We've received double recognition from the Travel Marketing Awards in the Best Brochure and

Best Use of Content Marketing categories.

Well done everyone!