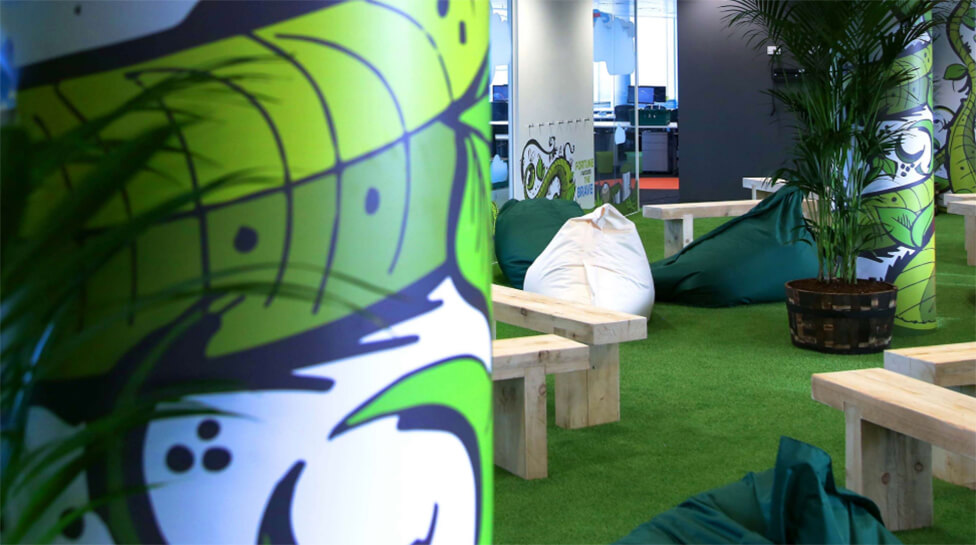 We created an office interior design that was innovative and inspiring, boosting recruitment and encouraging employees to take risks and 'think big'.
Background
HRonline, a cloud-based Human Resources service that provides companies with an easy way to manage their HR processes, aims to recruit and retain top talent. Our client also aims to establish a high-performance atmosphere that promotes free thinking.
Challenge
Our client needed an environment where employees could 'think big' to help drive innovation and creativity. So we took on the challenge of designing an inspirational office design for the company's new headquarters – 'Cloud 9' – and agreed to install it in secret to surprise employees.
Solution
To meet this unique brief, we transformed the office's central meeting space into a cloud-based 'Land of the Giants'.
The colossal garden includes a variety of features, including boulder footstools, bespoke wooden benches, oversized beanbag chairs that looked like leaves and illustrated beanstalks that wound their way around walls and columns. The surrounding workspace areas were also redesigned to encourage staff to 'aim high' with a stratospheric motif that fit in perfectly with views of the city skyline outside.
We softened the overhead lighting with billowy cloud linen fixtures, created supporting vinyl graphics for the wall and designed Foamex figures, which skydived and parachuted from the ceiling. And we replaced carpets with AstroTurf to mimic real grass and entice employees to meet and collaborate with colleagues away from their desks.
Highlights
We fitted desks with cloud-shaped dividers made of clear acrylic, which lit up throughout the day with LED lighting in HRonline's brand colours.
We launched the company's new office interior design ahead of schedule, keeping the layout a secret from employees and completing the final fit-out overnight. When everybody arrived the next day, they were directed to Cloud 9, where they were introduced to their new workspace.
The wooden benches were made specially to work visually with the garden motif.
Result
As a young, maverick company with a focus on taking risks and big ideas, this approach helped encourage employees to live the brand every day. The inspirational office interior design not only made an impact on new employees, it helped reinforce HRonline's aspirational culture by reminding staff to step outside the corporate mindset and 'think big'.
The result – an energised and fully engaged workforce, focused on innovation and driven to excel.